The 11th Annual Chicago Tattoo Arts Convention is coming to the Chicagoland area on March 20 – 22. You don't have to be an industry professional to enjoy this event, welcoming tattoo artists, ink lovers, and the general public alike.
You'll be able to see more than 400 of the world's best tattoo artists performing their craft live and you can even get inked yourself! Not only do you get to witness some extraordinary artists at work, but you can also watch sideshow arts, live human suspension, burlesque, and more.
Some of the special guests include:
James Vaughn from Ink Master Season 7 & Finalists on Season 1
Kyle Dunbar from Ink Master
Anwon "Boneface" Johnson from Ink Master Season 8 & 9
Alli Basker from Best Ink Season 2
Other special guests include Shanghai Kate Hellenbrand—who is known as America's tattoo godmother—and VH1's Kat Tat from Enigma Beverly Hills Tattoo shop. There will be meet-and-greets so you can rub elbows with some of your favorite celebrity artists. In addition, there are many top tattoo artists that will be attending like "Big Mike" Leon, "Grand Theft" Audra Grosz, and 36 Ghosts, to name a few.
During the three day event, attendees can participate in tattoo competitions and show off their impressive ink. Industry professionals will also be on hand where you can purchase anything you want, including tattoo supplies, clothing, jewelry, and artwork. At the event, there will also be live performances by Olde City Sideshow, Marlo Marquise, The Enigma Live, and human suspension. It is surely going to be an action-packed weekend!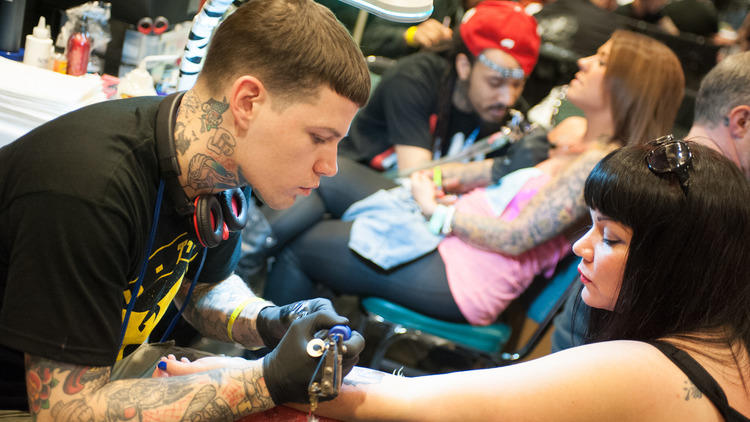 The event's after-parties allow you to get to know your fellow attendees. On Thursday, the after-party will be held at the Liar's Club. The unofficial official Chicago Tattoo Convention party will be a "Chitown Shakedown," featuring subculture music you can dance all night to. The event is free to everyone over the age of 21 and starts at 9 pm.
Children under the age of 12 can attend the tattoo convention for free, but everyone else will have to buy a ticket. The tickets can be purchased beforehand for $22/day or $45 for the whole weekend. Tickets will also be available at the door. The event takes place at the Donald E. Stephens Convention Center in Rosemont, Illinois.
At UrbanMatter, U Matter. And we think this matters.
Tell us what you think matters in your neighborhood and what we should write about next in the comments below!
Featured Image Credit: Chicago Tattoo Arts Convention