Cubs Baseball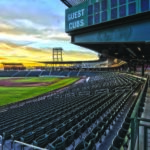 Come out to Wrigley Field and enjoy amazing Chicago Cubs baseball. Bring the kids and have some fun. Tickets are available for all games. Enjoy the warm weather and live Major League Baseball.
Event Meta
Start Date
April 1, 2023 2:30 pm
End Date
September 30, 2023 2:30 pm
Event Location
Street
1060 West Addison Street
Chicago Cubs Spring Training
Come out and enjoy Cubs Spring Training baseball.
Event Meta
Start Date
February 17, 2023 1:11 pm
End Date
April 1, 2023 5:11 pm
Event Location
Street
2330 W Rio Salado Pkwy
| | |
| --- | --- |
| Spring Training: Chicago Cubs vs. Oakland Athletics | 2/22/2020 13:05 |
| Spring Training: Los Angeles Dodgers vs. Chicago Cubs | 2/23/2020 13:05 |
| Spring Training: Seattle Mariners vs. Chicago Cubs | 2/24/2020 13:10 |
| Spring Training: Chicago Cubs vs. Colorado Rockies | 2/25/2020 13:05 |
| Spring Training: Chicago Cubs vs. Kansas City Royals (Split Squad) | 2/26/2020 13:05 |
| Spring Training: Texas Rangers vs. Chicago Cubs | 2/27/2020 13:05 |
| Spring Training: San Diego Padres vs. Chicago Cubs | 2/28/2020 18:40 |
| Spring Training: Chicago Cubs vs. Milwaukee Brewers | 2/29/2020 13:05 |
| Spring Training: Chicago Cubs vs. Seattle Mariners | 3/1/2020 13:05 |
| Spring Training: Oakland Athletics vs. Chicago Cubs (Split Squad) | 3/2/2020 13:05 |
| Spring Training: Chicago Cubs vs. Los Angeles Angels of Anaheim (Split Squad) | 3/2/2020 13:05 |
| Spring Training: Colorado Rockies vs. Chicago Cubs | 3/3/2020 3:30 |
| Spring Training: Cincinnati Reds vs. Chicago Cubs | 3/4/2020 3:30 |
| Spring Training: Chicago Cubs vs. Texas Rangers (Split Squad) | 3/5/2020 13:05 |
| Spring Training: Chicago Cubs vs. Chicago White Sox | 3/6/2020 13:05 |
| Spring Training: Cleveland Indians vs. Chicago Cubs | 3/7/2020 3:30 |
| Big League Weekend Series: Chicago Cubs vs. Cincinnati Reds (Split Squad) | 3/7/2020 13:05 |
| Spring Training: Chicago Cubs vs. Arizona Diamondbacks | 3/8/2020 13:05 |
| Big League Weekend Series: Chicago Cubs vs. Cincinnati Reds (Split Squad) | 3/8/2020 13:05 |
| Spring Training: San Francisco Giants vs. Chicago Cubs | 3/10/2020 13:05 |
| Spring Training: Chicago Cubs vs. San Diego Padres (Split Squad) | 3/11/2020 18:05 |
| Spring Training: Chicago Cubs vs. Los Angeles Dodgers (Split Squad) | 3/12/2020 13:05 |
| Spring Training: Chicago White Sox vs. Chicago Cubs | 3/13/2020 13:05 |
| Spring Training: Chicago Cubs vs. Cleveland Indians (Split Squad) | 3/14/2020 13:05 |
| Spring Training: Los Angeles Angels of Anaheim vs. Chicago Cubs (Split Squad) | 3/14/2020 13:10 |
| Spring Training: Arizona Diamondbacks vs. Chicago Cubs | 3/15/2020 3:30 |
| Spring Training: Chicago Cubs vs. Colorado Rockies | 3/17/2020 18:05 |
| Spring Training: Kansas City Royals vs. Chicago Cubs (Split Squad) | 3/18/2020 13:05 |
| Spring Training: Chicago Cubs vs. Cincinnati Reds (Split Squad) | 3/19/2020 13:05 |
| Spring Training: Chicago Cubs vs. San Francisco Giants (Split Squad) | 3/20/2020 13:05 |
| Spring Training: Oakland Athletics vs. Chicago Cubs (Split Squad) | 3/21/2020 13:05 |
| Spring Training: Chicago Cubs vs. Arizona Diamondbacks (Split Squad) | 3/21/2020 13:05 |
| Spring Training: Milwaukee Brewers vs. Chicago Cubs | 3/22/2020 3:30 |
| Spring Training: Chicago Cubs vs. San Diego Padres | 3/23/2020 12:05 |
| Milwaukee Brewers vs. Chicago Cubs | 3/26/2020 13:10 |
| Milwaukee Brewers vs. Chicago Cubs | 3/28/2020 18:10 |
| Milwaukee Brewers vs. Chicago Cubs | 3/29/2020 13:10 |
| Chicago Cubs vs. Pittsburgh Pirates | 3/30/2020 13:20 |
| Chicago Cubs vs. Pittsburgh Pirates | 3/31/2020 18:40 |
| Chicago Cubs vs. Pittsburgh Pirates | 4/1/2020 13:20 |
| Chicago Cubs vs. Arizona Diamondbacks | 4/3/2020 13:20 |
| Chicago Cubs vs. Arizona Diamondbacks | 4/4/2020 13:20 |
| Chicago Cubs vs. Arizona Diamondbacks | 4/5/2020 3:30 |
| Pittsburgh Pirates vs. Chicago Cubs | 4/6/2020 19:05 |
| Pittsburgh Pirates vs. Chicago Cubs | 4/7/2020 19:05 |
| Pittsburgh Pirates vs. Chicago Cubs | 4/8/2020 19:05 |
| Pittsburgh Pirates vs. Chicago Cubs | 4/9/2020 12:35 |
| Chicago Cubs vs. St. Louis Cardinals | 4/10/2020 13:20 |
| Chicago Cubs vs. St. Louis Cardinals | 4/11/2020 13:20 |
| Chicago Cubs vs. St. Louis Cardinals | 4/12/2020 3:30 |
| Baltimore Orioles vs. Chicago Cubs | 4/14/2020 3:30 |
| Baltimore Orioles vs. Chicago Cubs | 4/15/2020 3:30 |
| Washington Nationals vs. Chicago Cubs | 4/16/2020 3:30 |
| Washington Nationals vs. Chicago Cubs | 4/17/2020 3:30 |
| Washington Nationals vs. Chicago Cubs | 4/18/2020 3:30 |
| Washington Nationals vs. Chicago Cubs | 4/19/2020 3:30 |
| Chicago Cubs vs. San Diego Padres | 4/21/2020 18:40 |
| Chicago Cubs vs. San Diego Padres | 4/22/2020 18:40 |
| Chicago Cubs vs. San Diego Padres | 4/23/2020 13:20 |
| Chicago Cubs vs. Philadelphia Phillies | 4/24/2020 13:20 |
| Chicago Cubs vs. Philadelphia Phillies | 4/25/2020 13:20 |
| Chicago Cubs vs. Philadelphia Phillies | 4/26/2020 3:30 |
| Chicago Cubs vs. Pittsburgh Pirates | 4/27/2020 18:40 |
| Chicago Cubs vs. Pittsburgh Pirates | 4/28/2020 18:40 |
| Chicago Cubs vs. Pittsburgh Pirates | 4/29/2020 13:20 |
| Arizona Diamondbacks vs. Chicago Cubs | 4/30/2020 3:30 |
| Arizona Diamondbacks vs. Chicago Cubs | 5/1/2020 3:30 |
| Arizona Diamondbacks vs. Chicago Cubs | 5/2/2020 3:30 |
| Arizona Diamondbacks vs. Chicago Cubs | 5/3/2020 3:30 |
| Los Angeles Dodgers vs. Chicago Cubs | 5/4/2020 3:30 |
| Los Angeles Dodgers vs. Chicago Cubs | 5/5/2020 3:30 |
| Los Angeles Dodgers vs. Chicago Cubs | 5/6/2020 3:30 |
| Chicago Cubs vs. Washington Nationals | 5/8/2020 13:20 |
| Chicago Cubs vs. Washington Nationals | 5/9/2020 13:20 |
| Chicago Cubs vs. Washington Nationals | 5/10/2020 3:30 |
| Chicago Cubs vs. Milwaukee Brewers | 5/11/2020 18:40 |
| Chicago Cubs vs. Milwaukee Brewers | 5/12/2020 18:40 |
| Chicago Cubs vs. Milwaukee Brewers | 5/13/2020 13:20 |
| San Diego Padres vs. Chicago Cubs | 5/14/2020 19:10 |
| San Diego Padres vs. Chicago Cubs | 5/15/2020 19:10 |
| San Diego Padres vs. Chicago Cubs | 5/16/2020 17:40 |
| San Diego Padres vs. Chicago Cubs | 5/17/2020 13:10 |
| Pittsburgh Pirates vs. Chicago Cubs | 5/19/2020 19:05 |
| Pittsburgh Pirates vs. Chicago Cubs | 5/20/2020 19:05 |
| Pittsburgh Pirates vs. Chicago Cubs | 5/21/2020 12:35 |
| Milwaukee Brewers vs. Chicago Cubs | 5/22/2020 19:10 |
| Milwaukee Brewers vs. Chicago Cubs | 5/23/2020 15:10 |
| Milwaukee Brewers vs. Chicago Cubs | 5/24/2020 13:10 |
| Chicago Cubs vs. Miami Marlins | 5/26/2020 19:05 |
| Chicago Cubs vs. Miami Marlins | 5/27/2020 19:05 |
| Chicago Cubs vs. Miami Marlins | 5/28/2020 13:20 |
| Chicago Cubs vs. Cincinnati Reds | 5/29/2020 13:20 |
| Chicago Cubs vs. Cincinnati Reds | 5/30/2020 3:30 |
| Chicago Cubs vs. Cincinnati Reds | 5/31/2020 3:30 |
| Chicago Cubs vs. Cincinnati Reds | 6/1/2020 19:05 |
| Chicago Cubs vs. Baltimore Orioles | 6/2/2020 19:05 |
| Chicago Cubs vs. Baltimore Orioles | 6/3/2020 3:30 |
| Cincinnati Reds vs. Chicago Cubs | 6/4/2020 19:10 |
| Cincinnati Reds vs. Chicago Cubs | 6/5/2020 19:10 |
| Cincinnati Reds vs. Chicago Cubs | 6/6/2020 16:10 |
| Cincinnati Reds vs. Chicago Cubs | 6/7/2020 13:10 |
| Philadelphia Phillies vs. Chicago Cubs | 6/8/2020 19:05 |
| Philadelphia Phillies vs. Chicago Cubs | 6/9/2020 19:05 |
| Philadelphia Phillies vs. Chicago Cubs | 6/10/2020 13:05 |
| Chicago Cubs vs. New York Mets | 6/16/2020 19:05 |
| Chicago Cubs vs. New York Mets | 6/17/2020 19:05 |
| Chicago Cubs vs. New York Mets | 6/18/2020 13:20 |
| Chicago Cubs vs. Boston Red Sox | 6/19/2020 13:20 |
| Chicago Cubs vs. Boston Red Sox | 6/20/2020 3:30 |
| Chicago Cubs vs. Boston Red Sox | 6/21/2020 3:30 |
| Cincinnati Reds vs. Chicago Cubs | 6/23/2020 19:10 |
| Cincinnati Reds vs. Chicago Cubs | 6/24/2020 19:10 |
| Cincinnati Reds vs. Chicago Cubs | 6/25/2020 12:35 |
| New York Yankees vs. Chicago Cubs | 6/26/2020 19:05 |
| New York Yankees vs. Chicago Cubs | 6/27/2020 3:30 |
| New York Yankees vs. Chicago Cubs | 6/28/2020 3:30 |
| Chicago Cubs vs. Milwaukee Brewers | 6/29/2020 19:05 |
| Chicago Cubs vs. Milwaukee Brewers | 6/30/2020 19:05 |
| Chicago Cubs vs. Milwaukee Brewers | 7/1/2020 19:05 |
| Chicago Cubs vs. Milwaukee Brewers | 7/2/2020 13:20 |
| Chicago Cubs vs. Tampa Bay Rays | 7/3/2020 13:20 |
| Chicago Cubs vs. Tampa Bay Rays | 7/4/2020 3:30 |
| Chicago Cubs vs. Tampa Bay Rays | 7/5/2020 3:30 |
| Chicago White Sox vs. Chicago Cubs | 7/7/2020 3:30 |
| Chicago White Sox vs. Chicago Cubs | 7/8/2020 3:30 |
| Atlanta Braves vs. Chicago Cubs | 7/10/2020 19:20 |
| Atlanta Braves vs. Chicago Cubs | 7/11/2020 16:10 |
| Atlanta Braves vs. Chicago Cubs | 7/12/2020 13:20 |
| Chicago Cubs vs. Cincinnati Reds | 7/17/2020 13:20 |
| Chicago Cubs vs. Cincinnati Reds | 7/18/2020 13:20 |
| Chicago Cubs vs. Cincinnati Reds | 7/19/2020 3:30 |
| Chicago Cubs vs. Chicago White Sox | 7/20/2020 3:30 |
| Chicago Cubs vs. Chicago White Sox | 7/21/2020 3:30 |
| St. Louis Cardinals vs. Chicago Cubs | 7/23/2020 19:15 |
| St. Louis Cardinals vs. Chicago Cubs | 7/24/2020 19:15 |
| St. Louis Cardinals vs. Chicago Cubs | 7/25/2020 18:15 |
| St. Louis Cardinals vs. Chicago Cubs | 7/26/2020 13:15 |
| San Francisco Giants vs. Chicago Cubs | 7/27/2020 18:45 |
| San Francisco Giants vs. Chicago Cubs | 7/28/2020 18:45 |
| San Francisco Giants vs. Chicago Cubs | 7/29/2020 18:45 |
| San Francisco Giants vs. Chicago Cubs | 7/30/2020 12:45 |
| Chicago Cubs vs. Milwaukee Brewers | 7/31/2020 13:20 |
| Chicago Cubs vs. Milwaukee Brewers | 8/1/2020 13:20 |
| Chicago Cubs vs. Milwaukee Brewers | 8/2/2020 3:30 |
| Chicago Cubs vs. Atlanta Braves | 8/3/2020 19:05 |
| Chicago Cubs vs. Atlanta Braves | 8/4/2020 19:05 |
| Chicago Cubs vs. Atlanta Braves | 8/5/2020 19:05 |
| Chicago Cubs vs. Atlanta Braves | 8/6/2020 13:20 |
| Milwaukee Brewers vs. Chicago Cubs | 8/7/2020 19:10 |
| Milwaukee Brewers vs. Chicago Cubs | 8/8/2020 18:10 |
| Milwaukee Brewers vs. Chicago Cubs | 8/9/2020 13:10 |
| Cincinnati Reds vs. Chicago Cubs | 8/11/2020 19:10 |
| Cincinnati Reds vs. Chicago Cubs | 8/12/2020 19:10 |
| Toronto Blue Jays vs. Chicago Cubs | 8/14/2020 19:07 |
| Toronto Blue Jays vs. Chicago Cubs | 8/15/2020 15:07 |
| Toronto Blue Jays vs. Chicago Cubs | 8/16/2020 13:07 |
| Chicago Cubs vs. Los Angeles Dodgers | 8/17/2020 19:05 |
| Chicago Cubs vs. Los Angeles Dodgers | 8/18/2020 19:05 |
| Chicago Cubs vs. Los Angeles Dodgers | 8/19/2020 19:05 |
| Chicago Cubs vs. Los Angeles Dodgers | 8/20/2020 13:20 |
| Chicago Cubs vs. St. Louis Cardinals | 8/21/2020 13:20 |
| Chicago Cubs vs. St. Louis Cardinals | 8/22/2020 13:20 |
| Chicago Cubs vs. St. Louis Cardinals | 8/23/2020 3:30 |
| Miami Marlins vs. Chicago Cubs | 8/25/2020 19:10 |
| Miami Marlins vs. Chicago Cubs | 8/26/2020 19:10 |
| Miami Marlins vs. Chicago Cubs | 8/27/2020 19:10 |
| New York Mets vs. Chicago Cubs | 8/28/2020 3:30 |
| New York Mets vs. Chicago Cubs | 8/29/2020 3:30 |
| New York Mets vs. Chicago Cubs | 8/30/2020 3:30 |
| Chicago Cubs vs. San Francisco Giants | 8/31/2020 19:05 |
| Chicago Cubs vs. San Francisco Giants | 9/1/2020 19:05 |
| Chicago Cubs vs. San Francisco Giants | 9/2/2020 13:20 |
| Chicago Cubs vs. Cincinnati Reds | 9/4/2020 13:20 |
| Chicago Cubs vs. Cincinnati Reds | 9/5/2020 13:20 |
| Chicago Cubs vs. Cincinnati Reds | 9/6/2020 3:30 |
| Colorado Rockies vs. Chicago Cubs | 9/7/2020 13:10 |
| Colorado Rockies vs. Chicago Cubs | 9/8/2020 18:40 |
| Colorado Rockies vs. Chicago Cubs | 9/9/2020 18:40 |
| St. Louis Cardinals vs. Chicago Cubs | 9/10/2020 18:45 |
| St. Louis Cardinals vs. Chicago Cubs | 9/11/2020 19:15 |
| St. Louis Cardinals vs. Chicago Cubs | 9/12/2020 18:15 |
| St. Louis Cardinals vs. Chicago Cubs | 9/13/2020 13:15 |
| Chicago Cubs vs. Pittsburgh Pirates | 9/14/2020 18:40 |
| Chicago Cubs vs. Pittsburgh Pirates | 9/15/2020 18:40 |
| Chicago Cubs vs. Pittsburgh Pirates | 9/16/2020 18:40 |
| Chicago Cubs vs. Pittsburgh Pirates | 9/17/2020 13:20 |
| Chicago Cubs vs. Colorado Rockies | 9/18/2020 13:20 |
| Chicago Cubs vs. Colorado Rockies | 9/19/2020 13:20 |
| Chicago Cubs vs. Colorado Rockies | 9/20/2020 3:30 |
| Pittsburgh Pirates vs. Chicago Cubs | 9/22/2020 19:05 |
| Pittsburgh Pirates vs. Chicago Cubs | 9/23/2020 19:05 |
| Chicago Cubs vs. St. Louis Cardinals | 9/25/2020 13:20 |
| Chicago Cubs vs. St. Louis Cardinals | 9/26/2020 13:20 |
| Chicago Cubs vs. St. Louis Cardinals | 9/27/2020 14:20 |