Are you planning on getting married in the Windy City? With the beautiful architecture, skyline, and landscape, there are plenty of places across Chicago you can take gorgeous engagement photos. Here are some of our favorite spots, both indoor and out.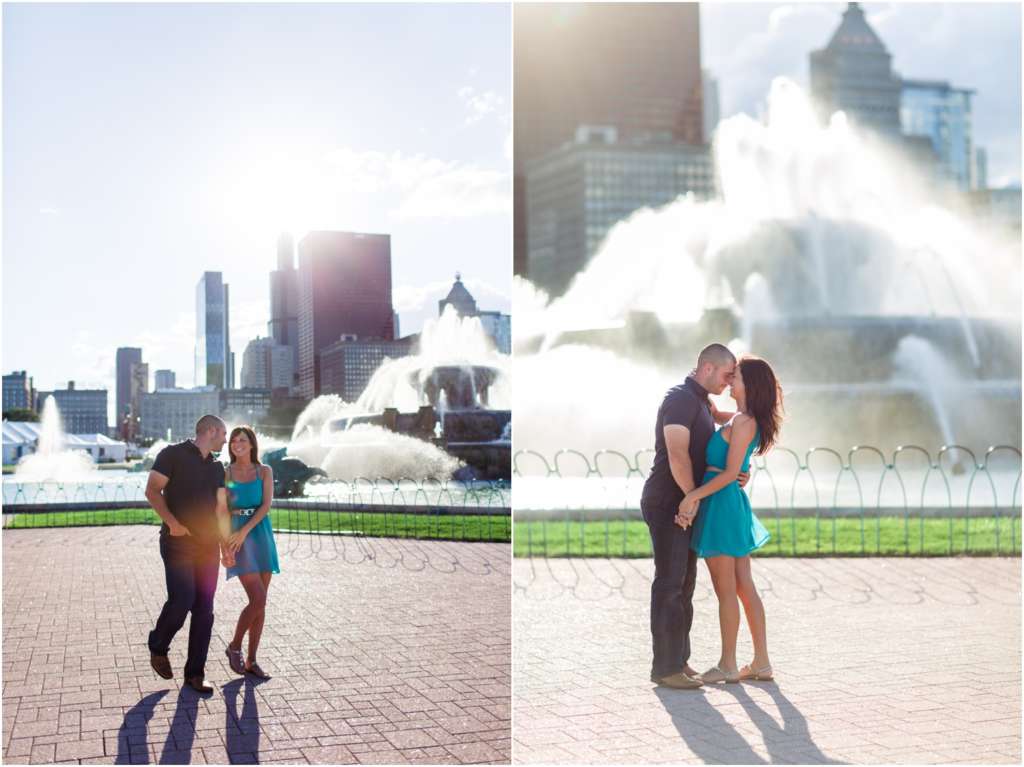 Grant Park
For some green in your engagement photos, we recommend that you stroll down to Grant Park. The large park is also surrounded by some of the most iconic landmarks in Chicago, including the Art Institute of Chicago, Buckingham Fountain, Millennium Park, and the Museum Campus. It's a great way to get a ton of different shots without having to travel far.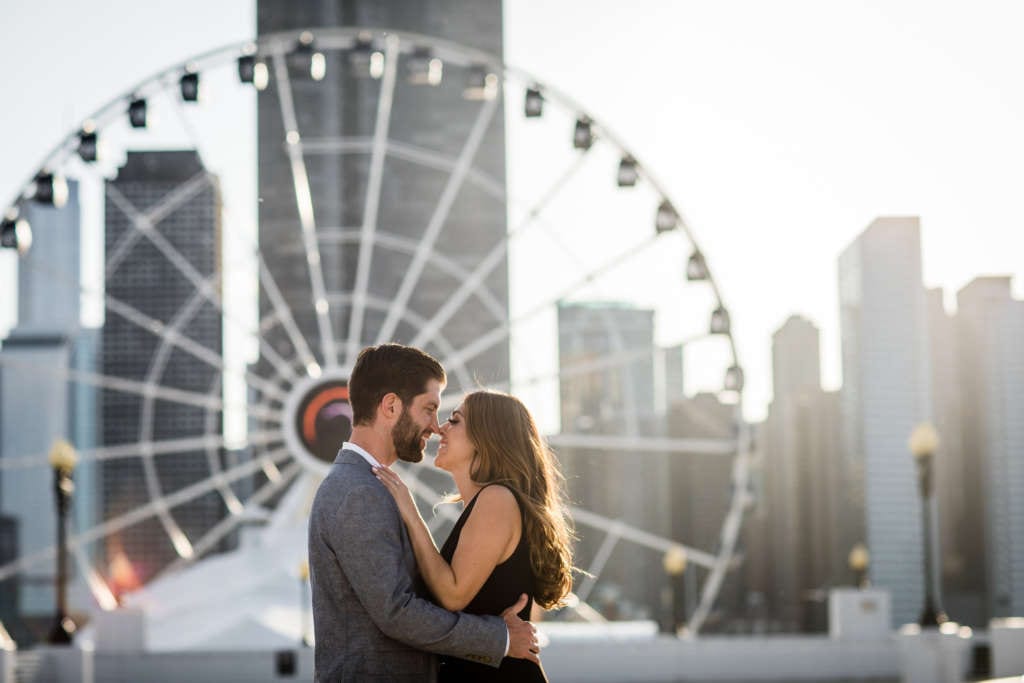 Navy Pier
With the 200-foot-tall Centennial Wheel, lake views, as well as the city skyline, Navy Pier is a top photo destination. You might even want to consider booking a VIP gondola to get some beautiful photos out on the water.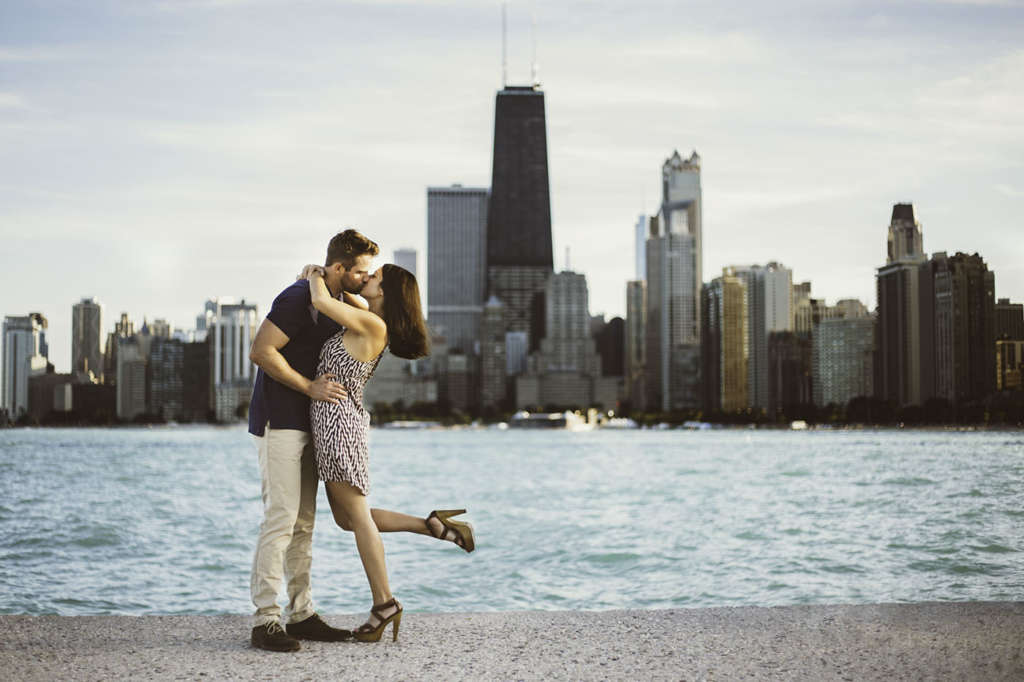 North Avenue Beach
With the skyline behind you, the lake in front of you, and the sand between your toes, North Avenue Beach is another popular engagement photoshoot. You can also head indoors to the North Avenue Beach House, which has a more formal atmosphere.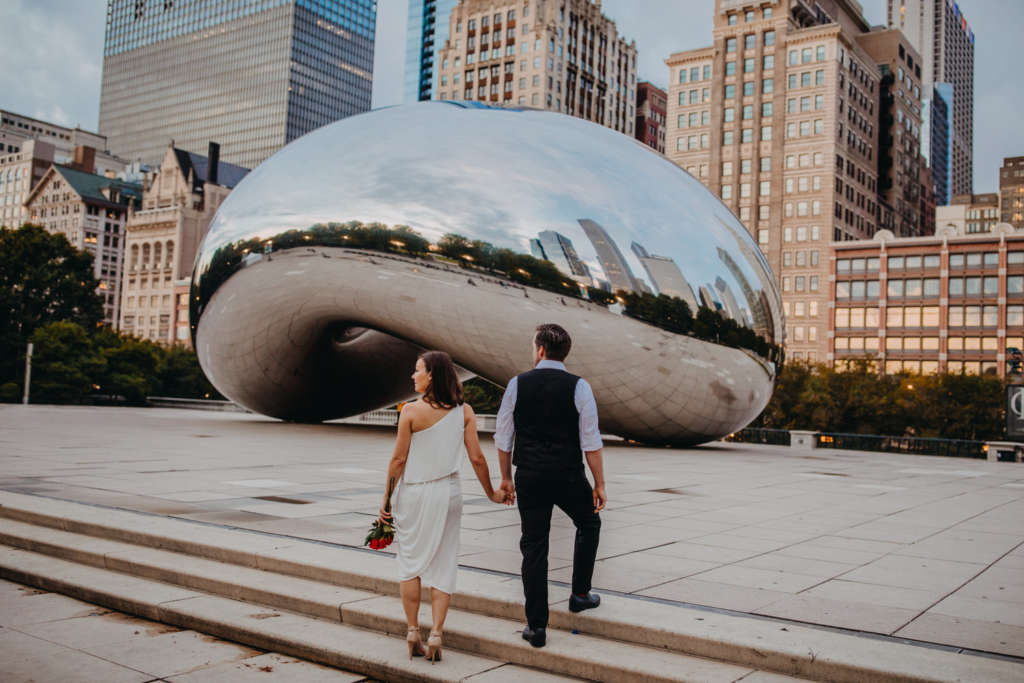 Cloud Gate
The famous "Bean" is a popular tourist destination, but many people love to take their engagement photos there as well. You'll have to go early to make sure you avoid the crowds!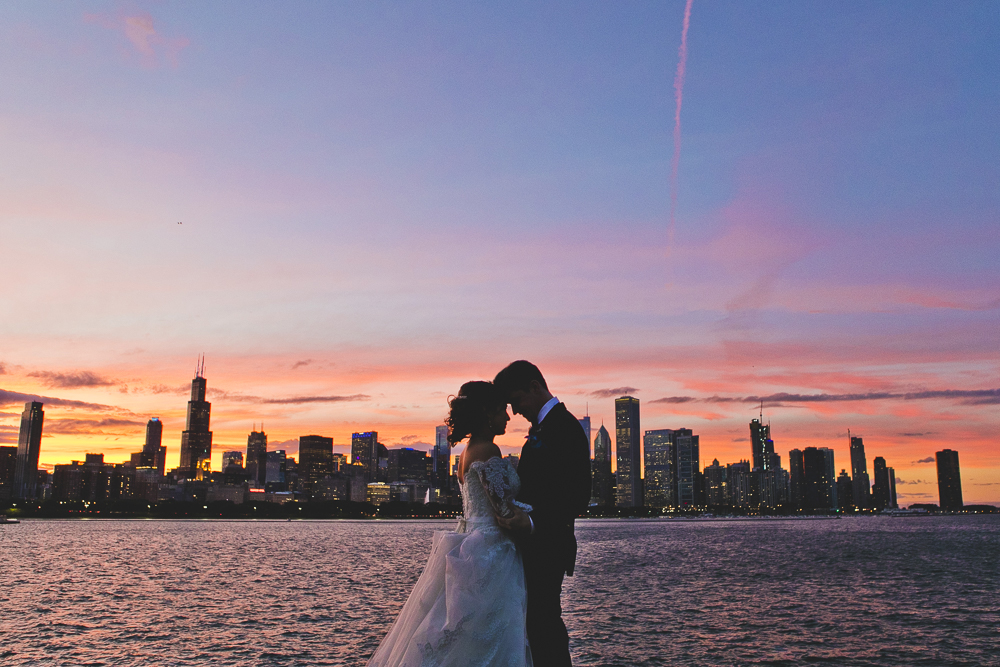 Adler Planetarium
The Adler Planetarium has some of the best views of the Chicago skyline. You can also head inside to take a few pictures amongst the stars and moons to get some snaps that are truly out of this world. Make sure to give the Adler staff a heads-up beforehand to make sure it is allowed.
Harold Washington Library
For the lovebirds that are also bookworms, you should head to the stunning Harold Washington Library. On the ninth floor, there is a Winter Garden that has a breathtaking 52-foot glass-paneled dome. It's another great detail to include in your photos!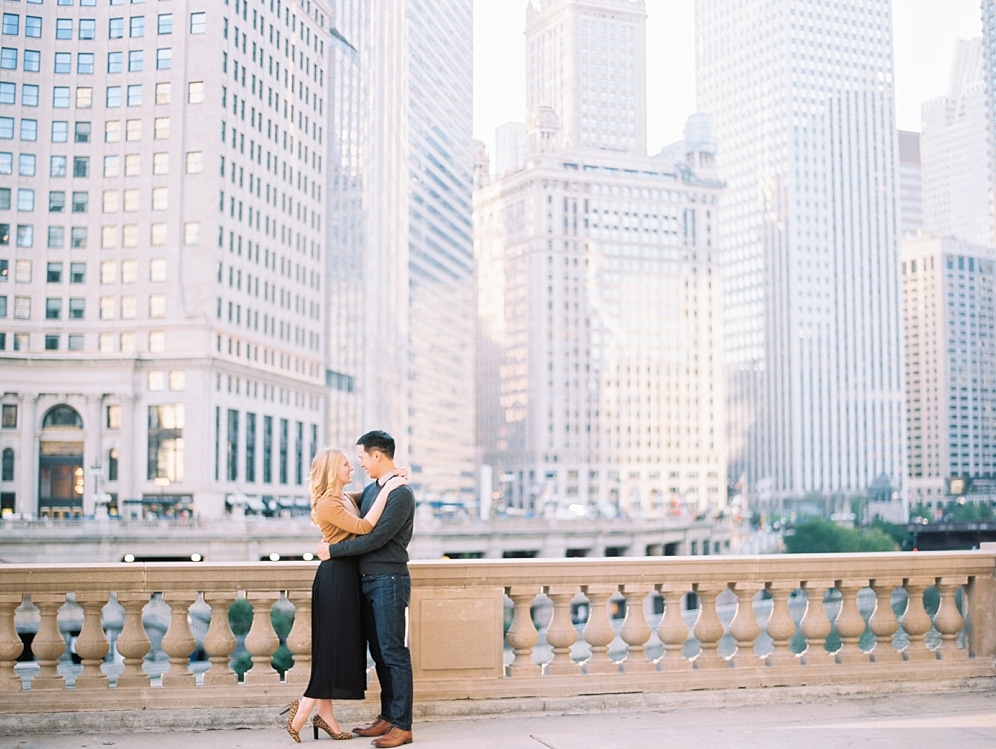 The Chicago Riverwalk
While the Riverwalk is often flooded with people, if you head up on the northeast side of the river where it meets Lake Michigan, there is a paved path lined with benches, cast-iron lampposts, and flowers that make you feel like you are in your own fairytale.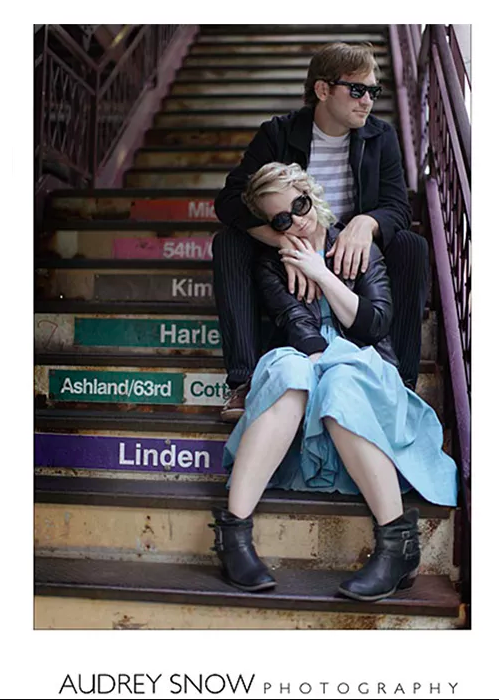 Stairs to the L Train
If you are a local Chicaogian, you'll likely have been on the L more times than you can count. While it might not seem like the most romantic place in the world, taking a picture on the stairs that lead up from the sidewalk—with the bright strips for each line—is a cool and fresh place to take a photo.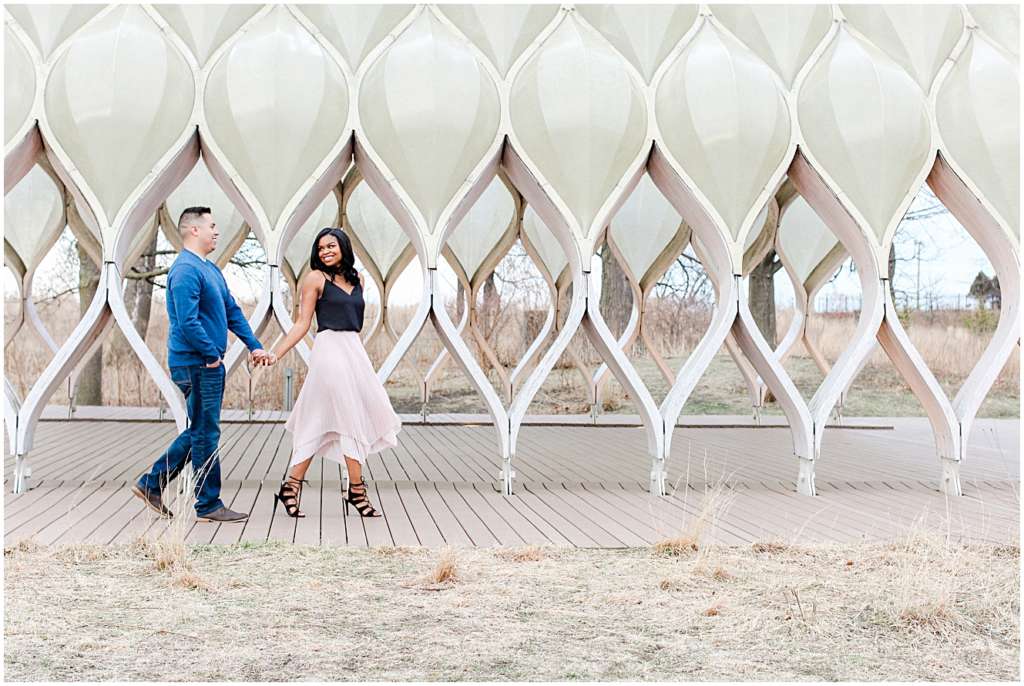 The Nature Boardwalk at Lincoln Park Zoo
Hidden in Lincoln Park is a geometric stone structure, initially designed by the Studio Gang Architects. The white, tortoise shell-inspired shapes help to form a charming engagement photo.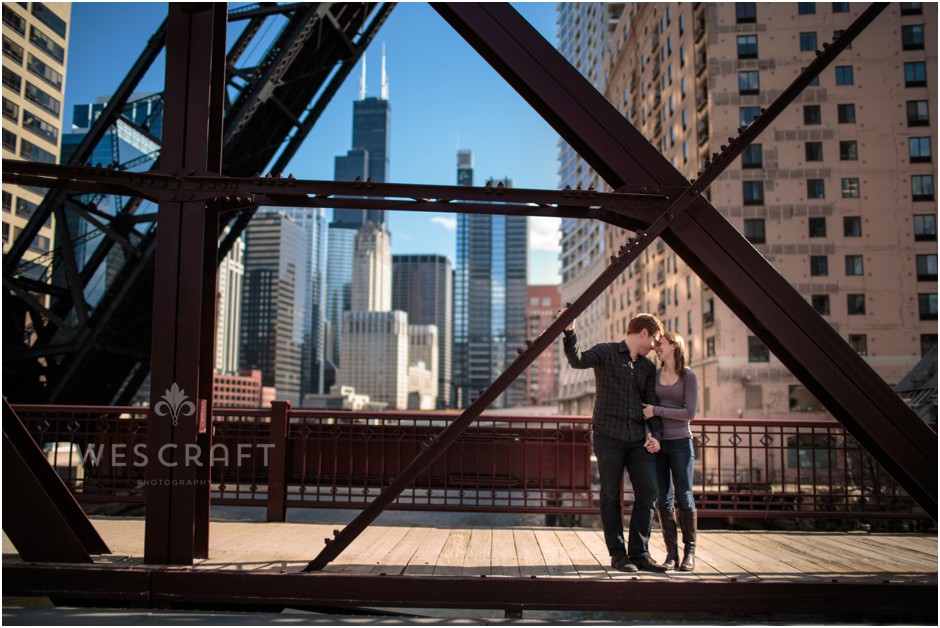 Kinzie Street Bridge
The bridge is another beautiful urban place to snap an engagement photo. The Kinzie Street Bridge was built back in 1908, and it was the site of the first railroad bridge in Chicago back in 1852. With the crisscrossing beams, it is a picturesque place to shoot photos with your love.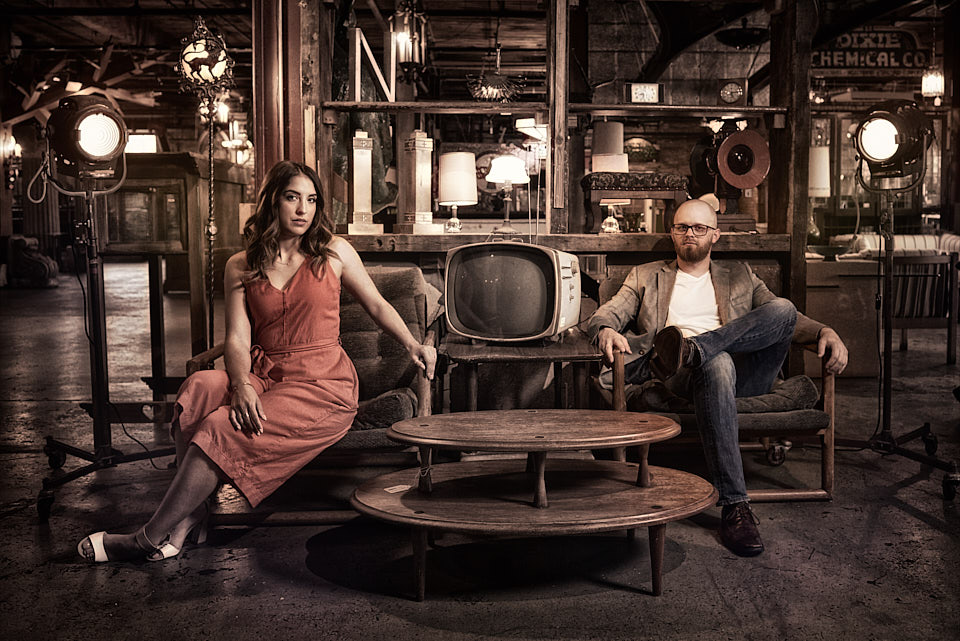 Salvage One
Salvage One is an expansive Chicago warehouse that has not only exposed brick and wooden floors, but also an interesting collection of furniture and other pieces that help to make your engagement photos a little more eclectic.
Don't forget to consider your favorite hangouts! Those less trendy spots are where you might feel more comfortable. Those more relaxed and casual angles will help the camera capture who you truly are as a couple in your Chicago engagement photos.
At UrbanMatter, U Matter. And we think this matters.
Tell us what you think matters in your neighborhood and what we should write about next in the comments below!