Recipient of a spot on Wine Enthusiasts' Top 100 Spirits of 2019 list, among over a dozen other awards, Skeptic Distillery leaves a very distinct footprint in Chicago's distilling history. Being just over two years old, the Melrose Park distillery has made waves in the industry with its tiny but mighty crew. Skeptic Distillery made the USA Spirit Ratings Gin and Vodka of the Year shortly after their first releases, and their unusual whiskey is uniquely cold vacuum-distilled from craft beer, leaving a sweet, Stout-like coffee flavor on your tongue, though not yet publicly available for purchase.
But that's not all. Skeptic Distillery is a game-changer in many ways, but they're also crafting their very own special release liquor that's entirely unique from anything you've ever tasted.
Look out for their taproom in the future, but for now, you can taste Skeptic Distillery gin and vodka at bars all over the city. Several of the best cocktail bars in Chicago crafted brand-new Skeptic Distillery-infused concoctions that you can order right now. Take a shot of Skeptic vodka and then wash it down with one of these specially crafted Skeptic Distillery cocktails.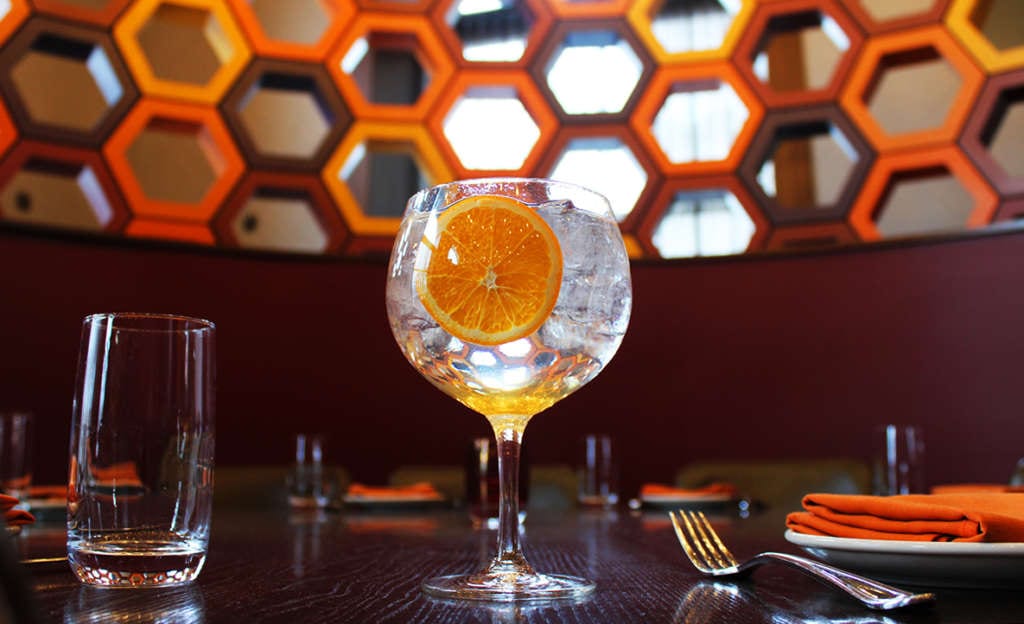 Mercat a la Planxa | 638 S Michigan Ave
Level Orange
Made by: Kai
Made with: Skeptic Gin, Homemade Orange Marmalade-Cardamom Tonic Syrup, Soda water & orange garnish
Skeptic gin is made with orange and cardamom, so to complement, manager Kai crafted a homemade orange marmalade-cardamom tonic syrup. The rest of Level Orange is just garnish, as all of the flavor comes from that homemade tonic and Skeptic gin itself. Mercat a la Planxa is known for its tapas, which means the possibility of shareable plates, and therefore, Level Orange drinks, is endless.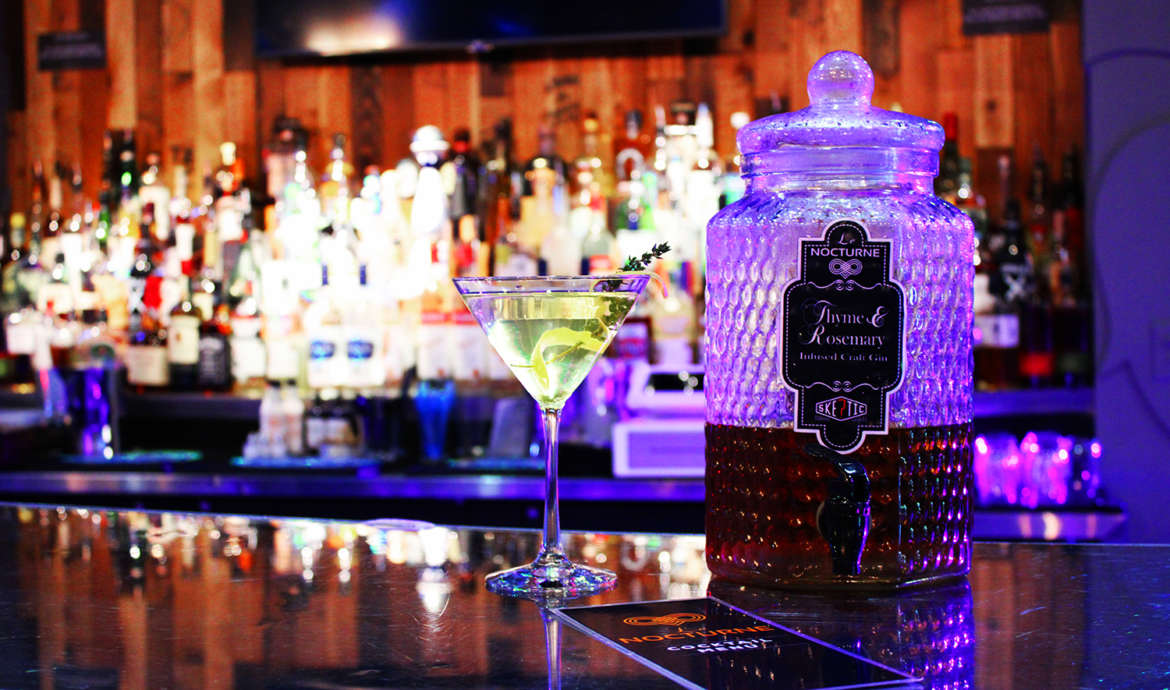 Le Nocturne | 4810 N Broadway
Rosemary's Lemon Martini
Made by: Miguel
Made with: Thyme & Rosemary-infused Skeptic Gin, Lemonade, Demerara Syrup, Fresh Lemon Juice, Garnished with a Sprig of Thyme and Lemon Peel
This one is reminiscent of essential oils and springtime, as the Rosemary's Lemon Martini is made with thyme- and rosemary-infused Skeptic gin, and a beautiful blend of lemon flavoring. This sophisticated gin drink is the perfect prop in any Instagram photo op, but it's also absolutely devilish to drink. Bringing downtown to uptown, Le Nocturne provides the perfect atmosphere to enjoy Rosemary's Lemon Martini with Skeptic gin while you're dressed to the nines. Look to the infusion jars beyond the bar to find various other Skeptic Gin infusions!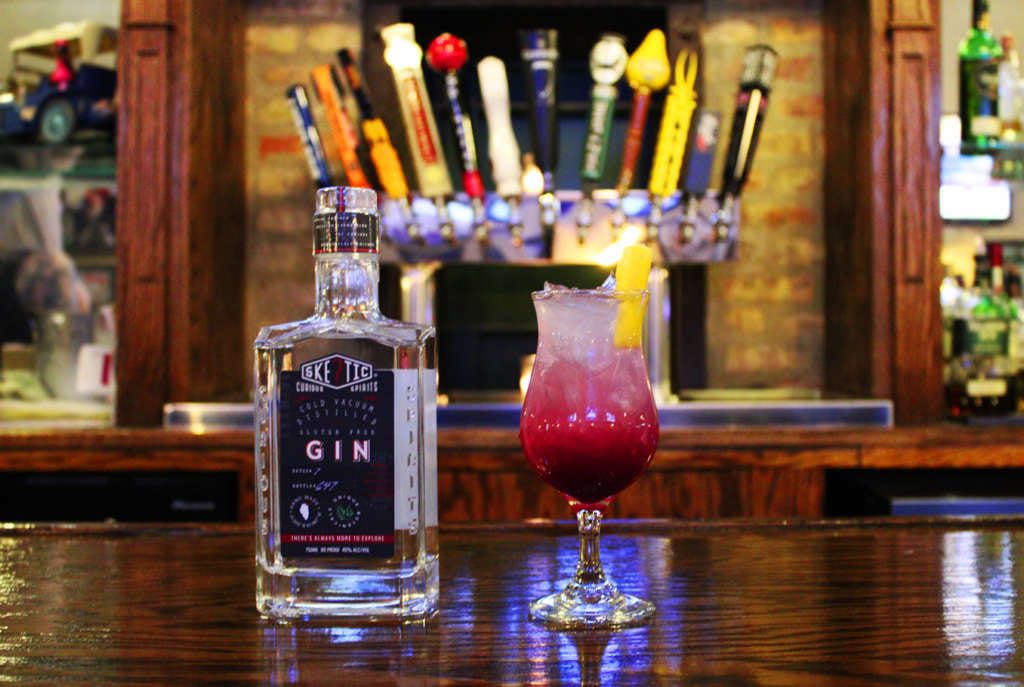 Gracie O'Malley's | 6334 N Clark St
Brainy Bramble
Made by: Cara
Made with: Skeptic Gin, Crème de Cassis, Lemon Simple Syrup
This Roger's Park Irish pub is full of charm. Better yet, it serves Skeptic gin that you can mix up into the Brainy Bramble, a cocktail invented by bartender Cara. College students receive discounts on Thursday nights (including on Skeptic drinks!). so this bar is usually full of the Loyola crowd. Just a few blocks west of campus and the only Irish bar in Edgewater, Gracie O'Malley's does Skeptic Distillery justice with the refreshing Brainy Bramble cocktail.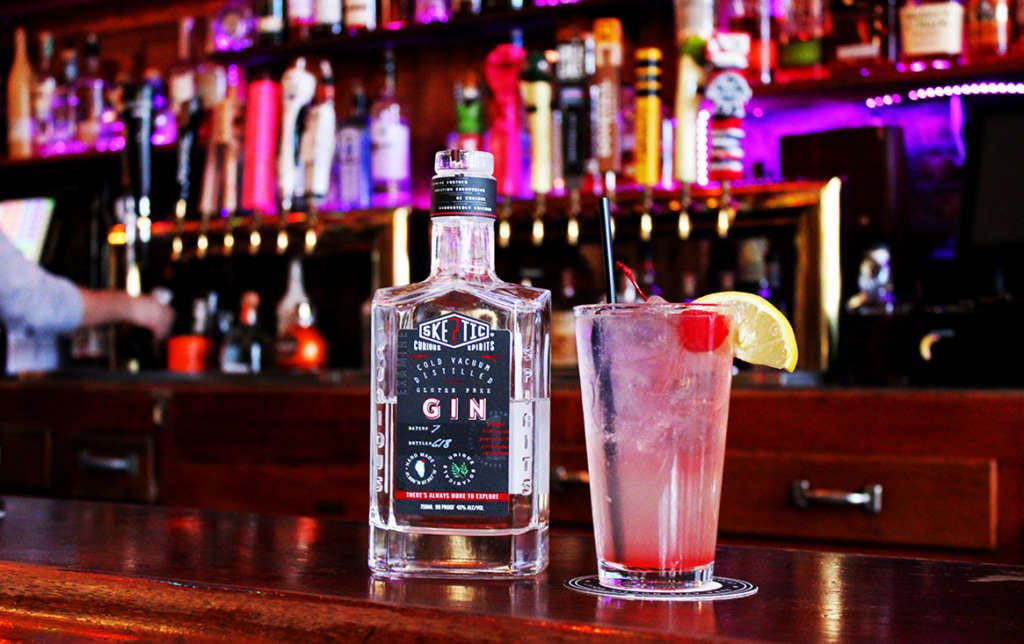 The GMan Tavern | 3740 N Clark St
The Gin German
Made by: Tom
Made with: Skeptic Gin, Fresh Lemon Juice, Simple Syrup, Soda, Cherry Garnish 
The Gin German already on the menu at The GMan Tavern as a signature cocktail, and for good reason. This popular drink is succulent, sweet, and dangerously good, the kind of drink you'll order a few times in a single night at this relaxed, neighborhood bar. The cherry garnish is the perfect finishing touch, pairing perfectly with the flavorful notes of Skeptic gin.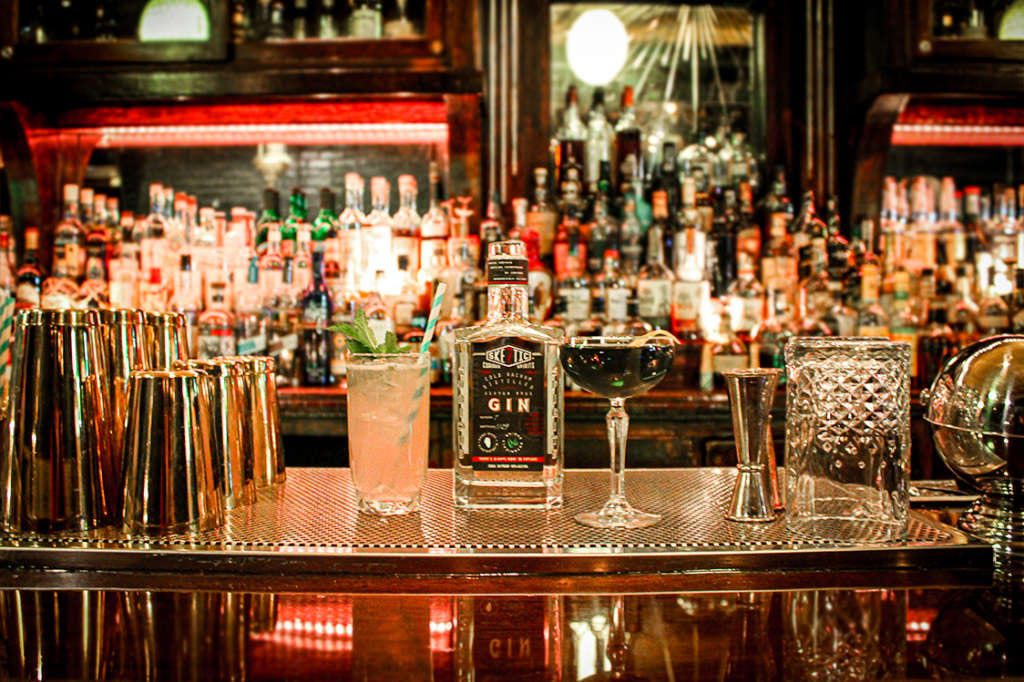 Spilt Milk | 2758 W Fullerton Ave
Ginger G&T
Made by: William
Made with: Skeptic Gin, Empress Gin, New Deal Ginger, Lemon, Angostura Bitters & Tonic
Definity Not and Aviation
Made with: Skeptic Gin, Mandarin Napoleon, Violet Liqueur, Cocchi Rosa, Maraschino Originale
Spilt Milk is a neighborhood, corner bar with a history that extends beyond its current ownership. What used to be an apothecary in service to the sick is now a cocktail bar catering to the jovial, but still pays homage to the theme with the original cabinetry and, especially, the drinks. The Ginger Gin and Tonic is a soothing remedy for the soul. Made with two kinds of gin, Skeptic and Empress, plus a healthy serving of bitters, this cocktail clears your sinuses with ease. But that's not the only Skeptic concoction on the menu; the Definitely Not and Aviation brings in violet liqueur alongside Skeptic gin, a gorgeous combination that blends hints of flower with the strong scent of purity.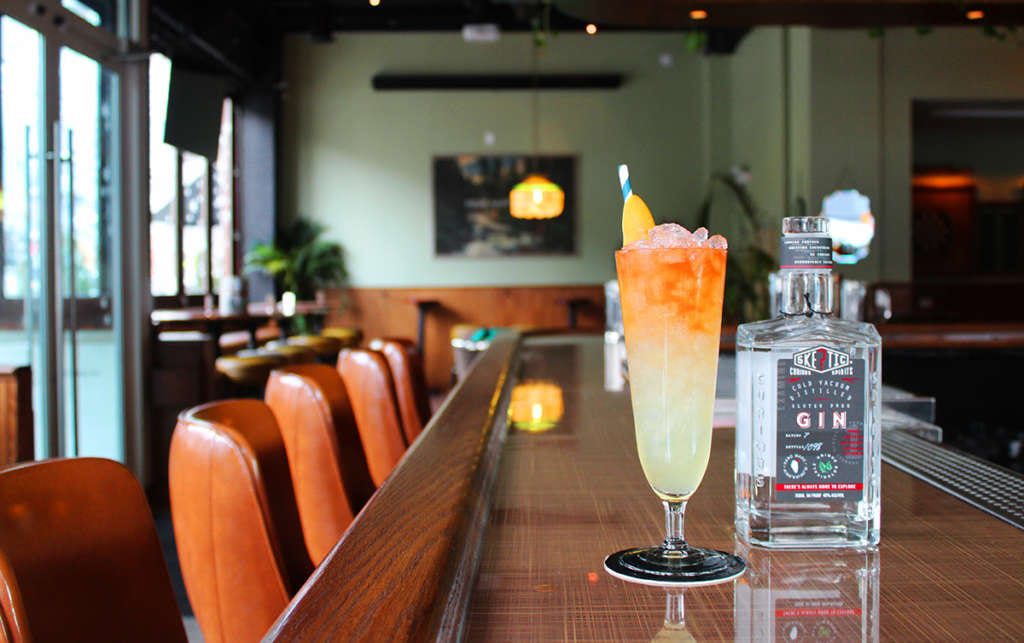 Little Victories | 1725 W Division St
Dealer's Choice Gin Daisy
Made By: Jason
Made with: Skeptic Gin, Yellow Chartreuse, Lemon Juice, Soda, Bitters 
Little Victories is your happy place and within it are cocktails you can call your favorites. A sunshine beam of a drink, the Dealer's Choice Gin Daisy is made, well, with the dealer's choice gin: Skeptic, of course. One gulp is sweetness for the soul with just a slight hint of an acrimonious aftertaste. So, even if you're not one for sweet drinks, we're pretty confident this one will make a believer out of a skeptic yet.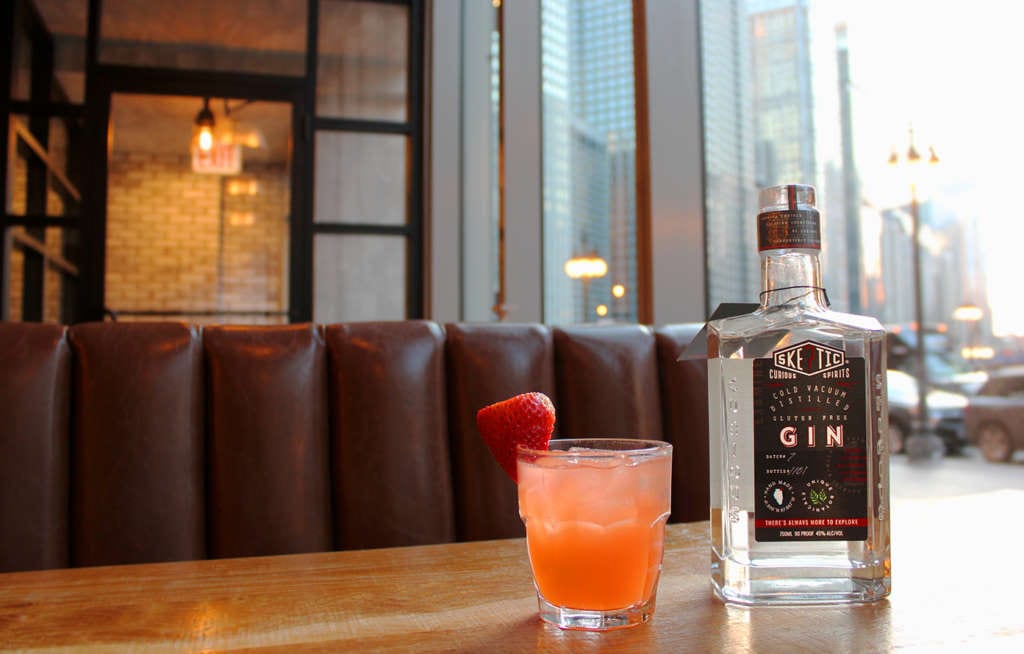 Land & Lake Kitchen | 81 East W Wacker Dr
Strawberry Skeptic
Made by: Katie
Made with: Skeptic Gin, Muddled Strawberry, Lime, Honey Simple Syrup
True to its name, Land & Lake Kitchen is a living tribute to Midwestern culture, sourcing exclusively local craft spirits and ingredients to create their delectable cocktail line. One of our favorites is the Strawberry Skeptic, made, of course, with Skeptic gin, strawberries, a dash of lime, and a drizzle of honey simple syrup, all in the name of preserving lakeside weekends and the prairie countryside.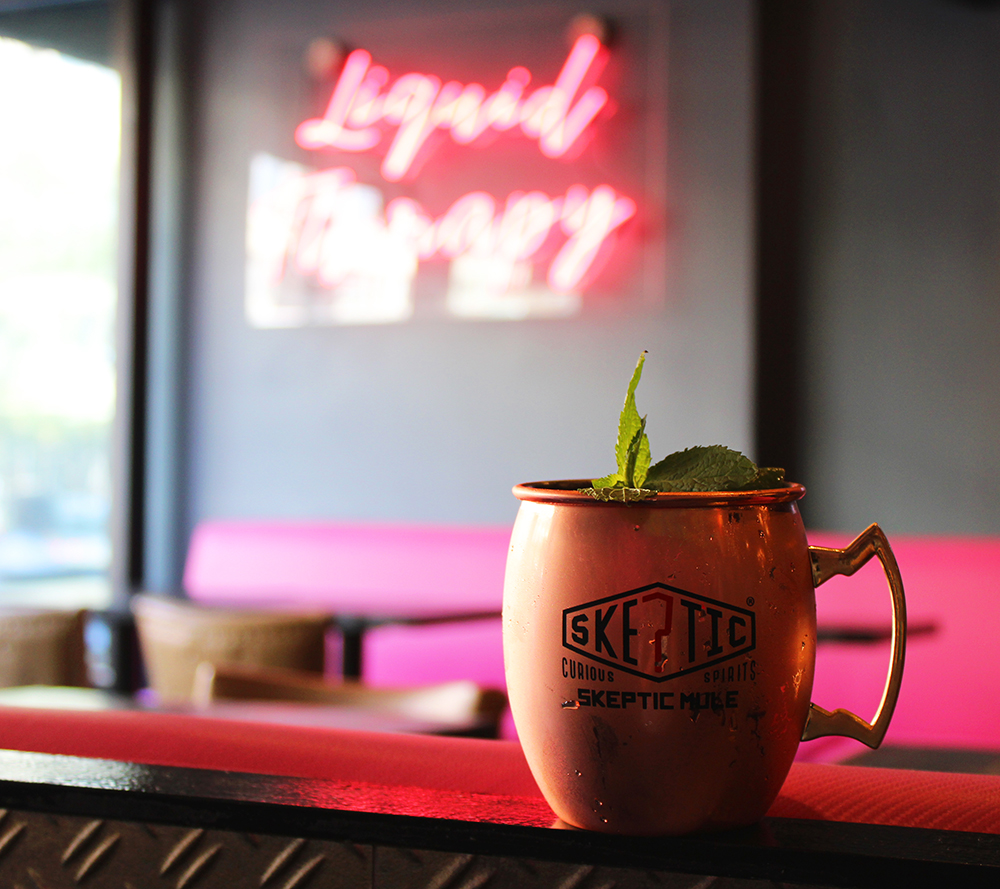 Wynwood | 1560 N Milwaukee Ave
The Wynwood Mule
Made with: Skeptic Vodka, Citrus, Peach, Ginger Beer, Served in a Skeptic Mule Mug 
We know what you're thinking—what's with all the gin? If you're less of a ginthusiast and more of a my-water-is-vodka type, try The Wynwood Mule, a Skeptic vodka cocktail that puts all other Mules to shame. Not only can you sip this from a special Skeptic Mule mug, but Wynwood has made this cocktail their signature Mule, a high honor, respected even among the most devout vodka drinkers.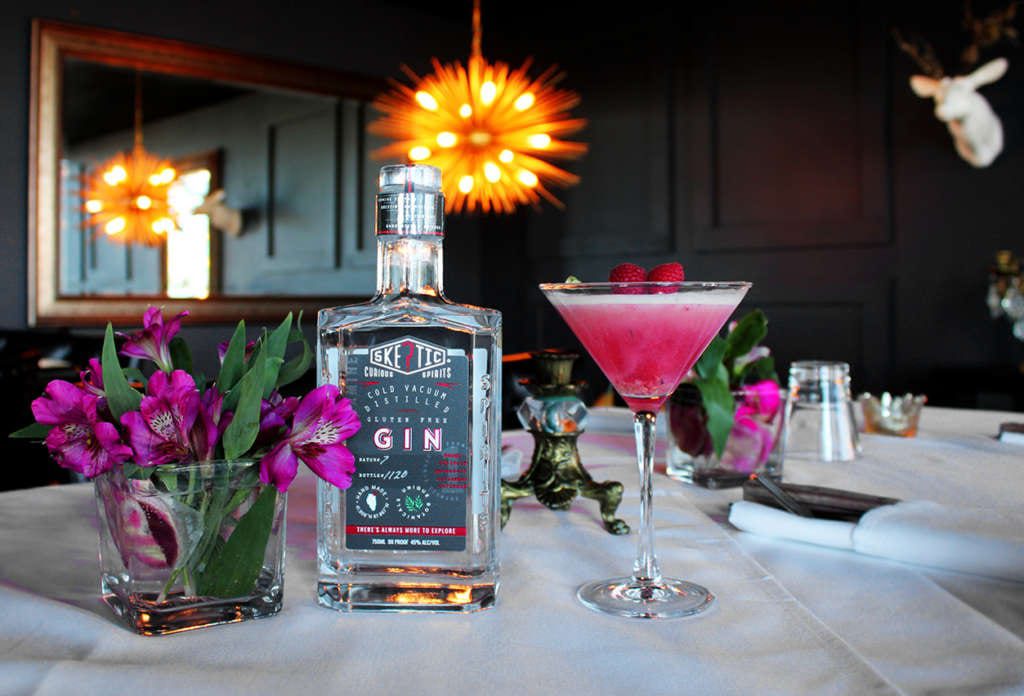 Carnivore & The Queen | 2241 Maple Ave, Downers Grove
The Supper Club Cocktail
Made By: Chris
Made with: Skeptic Gin, Muddled Raspberries, Homemade Lemon Simple Syrup, Egg Whites, Garnished with Fresh Raspberries 
For all those willing to travel outside city limits, or those who already hail from there, Carnivore & The Queen in Downers Grove has three Skeptic Distillery cocktails on the menu that we're obsessing over. This spirit-focused supper club's primary Skeptic drink, though, is The Supper Club Cocktail, made unusually with raspberries and egg whites, a delectable combination that will tingle on your tastebuds.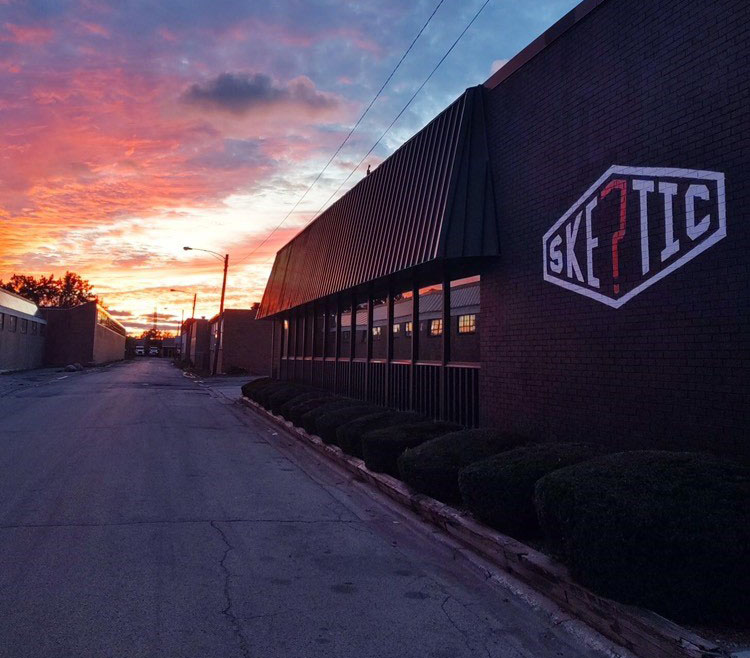 Skeptic Distillery Co. | 2525 W Le Moyne St, Melrose Park
Though their taproom is still a future concept, Skeptic Distillery offers special, reservation-only tours of the distillery, including tasting samples and bottles available for purchase. All you have to do is schedule an appointment to get a taste of their award-winning gin and vodka, unique whiskey cold-distilled from craft beer (limited amounts, ask ahead if samples are available), and their special release, Ginquila, a liquor that's unique to anything you've ever tasted before.
If you already love the taste of Skeptic Distillery and want to see this startup succeed in building a full scale Beer-Whiskey still and tasting room, invest in their WeFunder. They've hit $84,395 of their goal to reach $500,000 and they need your help to get there. The best part is, when you invest on WeFunder, Skeptic Distillery promises to repay you 5-percent revenues each quarter until you get 100-percent of your investment back TWICE. That means you can double your investment and actually make money when you invest to get Skeptic Distillery's smooth, award-winning liquors on the shelves.
Perks include:
$250+ Perk Tier: Swag bag of goodies including t-shirt, hat and some other branded items.
$500+ Perk Tier: Swag bag of goodies plus an engraved Skeptic tasting glass.
$1,000+ Perk Tier: Private tour and tasting for you and up to 5 of your friends, including some unreleased stuff (depending on what's available at the time).
$10,000+ Perk Tier: We will produce a custom whiskey based on a beer style of your choice, aged according to your parameters and extremely limited edition just for you.
At UrbanMatter, U Matter. And we think this matters.
Tell us what you think matters in your neighborhood and what we should write about next in the comments below!
Featured Image Credit: Skeptic Distillery