Our favorite turkey holiday might look a little different this year, thanks to COVID-19. Health officials recommend celebrating only with people in your household or taking precautions like keeping your distance and wearing a mask if you get together with others. So if you're staying home and don't feel like cooking, here's a roundup of top Chicago restaurants offering Thanksgiving specials to go. 
24 S. Michigan Ave., Chicago, IL 60603
Bring home a Thanksgiving feast for any size gathering. Start by choosing a Free Range Minnesota Turkey at this restaurant in Chicago for $450 (feeds 4 to 6) or $550 (feeds 8 to 10). Or a Heritage Bred Brune Landaise Chicken for $270 (feeds 2 to 4). Then select your starters, salads, sides, and dessert. Delicious!
1072 N Milwaukee Ave, Chicago, IL 60642
Get a real deal Thanksgiving meal! Enjoy smoked, carved Turkey Breast with gravy, Mashed Potatoes, String Beans, Cornbread Stuffing, Buttered Rolls, and Sweet Potato Pie Pieces. For 4 to 6 people, you'll be dishing out $150. Just want the bird? Get a 15-pound turkey for $77. 
809 W Randolph St, Chicago, IL 60607
Save time and hassle with chef Stephanie Izard's Everything But The Turkey kit. This restaurant is offering Thanksgiving classics with a twist like Belize-Spiced Cranberries, Hong Kong Gravy, Roasted Hong Kong Sweet Potatoes, Green Bean Casserole, Southeast Asia Sausage, Apple & Mushroom Stuffing, and Southeast Asia Mashed Potatoes! Serves 6 for $249.
435 N Clark St, Chicago, IL 60654
Let the folks at Bub City do the cooking this year with their Thanksgiving Feast for $175 (serves 4). Featuring a Half Smoked Turkey with all the fixings, mashed potatoes and country gravy, autumn salad, and cranberry sauce. Place your order by Wednesday, November 25th for pickup on Thanksgiving Day between 9 AM and 1 PM. 
1810 W Montrose Ave, Chicago Il, Il 60640
Gobble down your turkey day dinner, Bayan Ko style! The main dishes include Mojo Marinated Turkey Roulade, Adobo Pork Belly, Shrimp Al Ajillo. And sides: shaved Brussel Sprouts & Mushroom Pancit, Chorizo Cornbread Stuffing, Garlic Fried Rice, and Black Beans & Maduros. Still have room? Top it off with a Salted Caramel Flan. Cue the drool emojis. Feeds 4 to 6 for $195. Order by November 18th!
4662 N. Broadway, Chicago, IL 60640
Spending the day with your sweetheart? Brass Heart is a restaurant in Chicago that is open on Thanksgiving to provide you with Poussin Chickens stuffed with brioche dressing, Green Bean and Wild Mushroom Casserole, 50/50 Duchess Whipped Potatoes, Cranberry Sauce, Roasted Chicken Pan Gravy, Brussels Sprouts, Sweet Potato Pie, and a bottle of Rose! This Thanksgiving meal serves 2 and cost $175.
---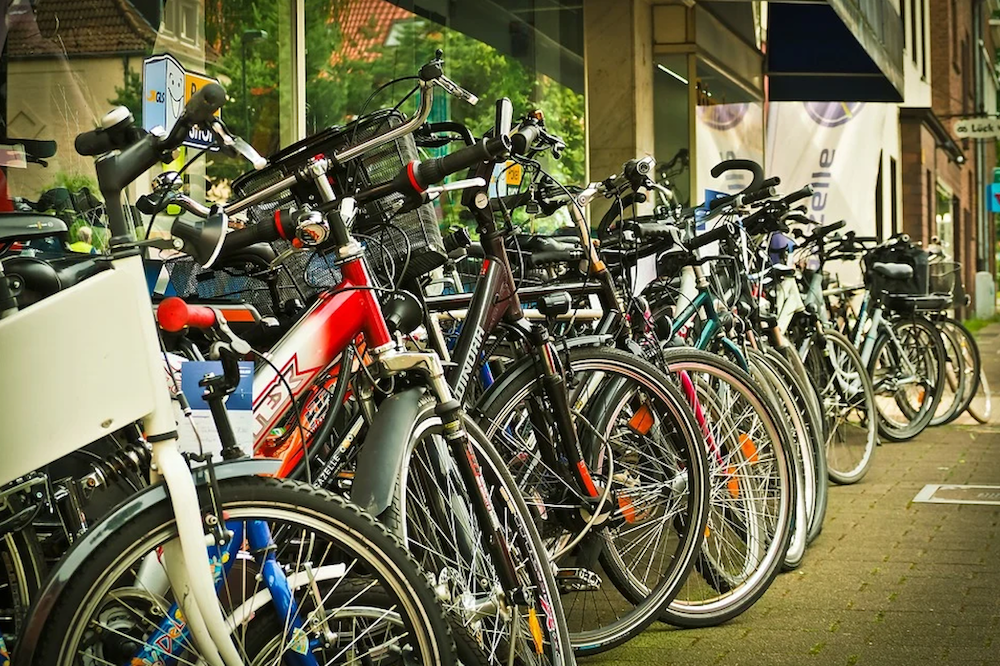 View the Best Used Bike Shops in Chicago
Chicago restaurants doing Thanksgiving specials? Work off the meal on your bike from one of the city's best used bike shops.
---
1462 E 53rd St, Chicago, IL 60615
Get a taste of southern cooking without leaving your couch. Virtue is offering a complete Thanksgiving Meal (feeds 4 to 6) for $189. Feast your eyes on a whole brined & roasted turkey, collard greens, giblet gravy, candied yams, cranberry sauce, mashed potatoes, and pecan pie. Wowza.
315 N LaSalle St, Chicago, IL 60654
Create the ultimate feast with Thanksgiving Prepped & Ready from River Roast. Meals can be picked up between November 23-26. Those who pick up their meals in advance will have reheat and cooking instructions included for day-of preparation. If picked up on Thanksgiving Day, all dishes will be cooked prior to pick-up.
Menu items include:
– Local Farm-Raised, Herb-Brined Turkey
– Kale & Pear Salad with dried cherry, red onion, walnuts, blue cheese, and smoked pear vinaigrette
– Roast Carrots & Dirt with Pumpernickel Breadcrumbs, Goat Cheese, and Balsamic
– Stuffing with House Sausage, Apples, and Parsnips
– Brussels Sprouts with Salt & Pickled Vinaigrette
– Carrot Cake with vanilla cream cheese frosting
– Pumpkin Pie with fall spiced meringue
To see the full menu available to order including cocktail kits and to place an order, visit Tock.
At UrbanMatter, U Matter. And we think this matters.
Tell us what you think matters in your neighborhood and what we should write about next in the comments below!
Featured Image Credit: Frontier on Facebook
READ MORE LIKE THISDOWNLOAD THE URBANMATTER APPFIND PARKING 
The post 8 Chicago Restaurants with Thanksgiving Specials for Takeout (2020 Edition) appeared first on UrbanMatter.