A good sandwich can change your life. High quality meat, crusty bread, and flavorful cheese is something magical—we're not accepting opposing views on this. So whether you're looking for a new lunch spot or an exclusive relationship with pastrami, here are some of the best sandwich shops in Chicago. 
1141 S Jefferson St, Chicago, IL 60607
Looking for an authentic deli? Pop in to Manny's and travel back in time. Order one of their signature sandwiches like the reuben or the chazzer to experience a literal mountain of meat in between two slices of bread. Warning: you may cry happy tears. 
2258 W Erie St, Chicago, IL 60612
Homemade meatballs, Italian sausage, Italian beef, steak, and more—all served on crusty D'Amato's bread. Honestly, is there anything better? Answer: no. This delightful store and full-service deli is the perfect spot for breakfast, lunch, or dinner. 
View this post on Instagram

Happy Halloween! The perfect day to TREAT yourself and the whole fam! We have the Muffaletta and The Jersey Joe on special today Thanks for the awesome photo of the Muffaletta @chowdown_chi!

A post shared by Tempesta Market (@tempestamarket) on Oct 31, 2020 at 7:10am PDT
1372 W. Grand Ave., Chicago, IL 
This family-owned Chicago joint has a rich legacy of making authentically inspired foods. They're unapologetic with their ingredients (the highest quality or nothing) which results in some of the finest sandwiches in the midwest. Popular items include Southside Johnny, The B. Franklin, and The Dante. 
View this post on Instagram

This giant italian sub!!!

A post shared by Chicago Food Blogger • 312food (@312food) on Mar 7, 2020 at 2:12pm PST
1120 W Grand Ave Ste 1, Chicago, IL 60642
Since 1973, the folks at Bari have been dishing out Italian classics to the Chicago community. They're known for their mouthwatering subs, handcrafted giardiniera, fresh made pestos, and homemade Italian and Barese sausages. Plus, you can score top notch items like salami, prosciutto, and imported cheeses to recreate sandwiches at home!
1840 W Irving Park Rd, Chicago, IL 60613
If you're a fan of NYC's classic deli's, you'll love this highly acclaimed Jewish deli. Enjoy thick-cut pastrami, lox cured in-house, and bagels boiled and baked daily. You'll also find unexpected surprises like latke tater tots and a sandwich stuffed with dill kimchi. 
View this post on Instagram

A post shared by J.T.'s Genuine Sandwich Shop (@jtsgenuine) on Oct 16, 2020 at 1:47pm PDT
3970 N Elston Ave, Chicago, IL 60618
Remember when your mom would make you a bombass sandwich? That's the vibe you'll get at JT's. They specialize in made-from-scratch family favorites for both meat eaters and vegetarians. Popular items include the breaded pork tenderloin, the grinder, and the BLTT. 
1309 W Wilson Ave, Chicago, IL 60640
A vegan deli…wait, what? That's right! This non-meat, non-dairy operation serves up stellar sandwiches featuring seitan pastrami, vegan cream cheese, and gluten-free bagels. You won't even realize you're not eating the "real" thing! 
---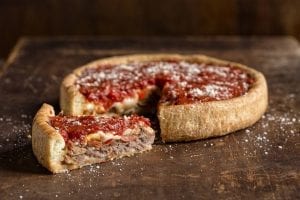 Need a pivot from one of the best sandwich shops in Chicago? View our list of the top 42 pizza restaurants in the city.
Scenic Motorcycle Routes Near Chicago
---
901 W Randolph St, Chicago, IL 60607
J.P. Graziano's Grocery might be one of the most iconic sandwiches, not only in Chicago, but the entire country. JP's sits in one of the highest traffic areas of culinary Chicago and rightfully gets the love it deserves. Their signature Mr. G includes a cornucopia of ingredients that reads like a Shakespeare play and their famed giard is available to take home or purchase online.
At UrbanMatter, U Matter. And we think this matters.
Tell us what you think matters in your neighborhood and what we should write about next in the comments below!
Featured Image Credit: J.P. Graziano's on Facebook
READ MORE LIKE THISDOWNLOAD THE URBANMATTER APPFIND PARKING 
The post Where to Find the Best Sandwich Shops in Chicago appeared first on UrbanMatter.