This list of one-of-a-kind Chicago bars highlights sometimes classy, sometimes divey, but most of the time, quirky experiences. And quirky isn't bad; if anything, Chicago will show you how to do quirky effortlessly. Bring a friend and beam with pride for Chicago as you explore your city's most unforgettable experiences—with a drink in hand, of course. These are the bars to visit to have the best night of your life in Chicago.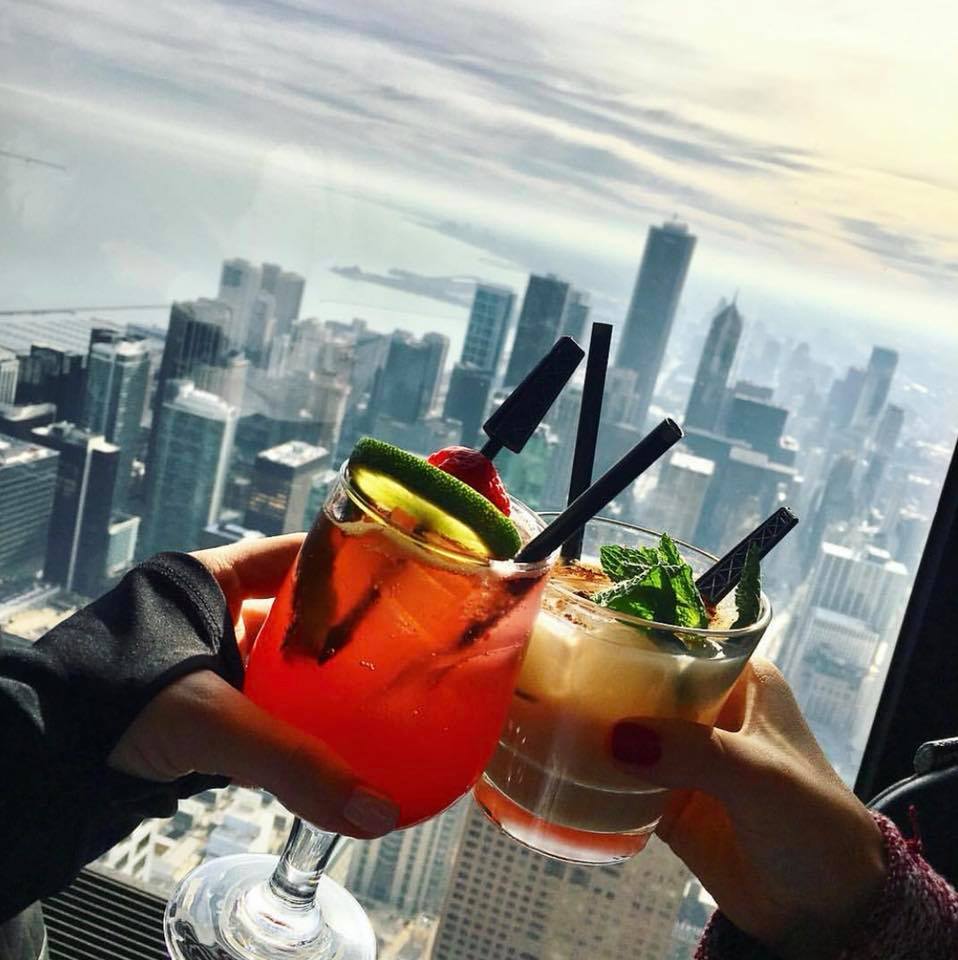 The Signature Lounge at 96th | 875 N Michigan Ave
Perched on the 96th floor of the Hancock Tower, just off Michigan Avenue, is the Signature Lounge. Although this tower of delights is in a tourist setting, the overall experience does not disappoint. At this particular famed Chicago attraction, specifically on the 94th floor, you can admire the architecture on the 360 Observation Deck or even dare yourself and participate in The Ledge Experience (for thrill-seekers!). However, for those of you who are thirsty and would like a quieter evening, venture on up to the 96th floor. Here you'll find some of the most spectacular views of all Chicago all the while enjoying a strong drink. You'll never want to take your eyes off the vastness of Lake Michigan or the glitter of Michigan Avenue.
Pro-tip: Ladies, go to the bathroom. You won't believe the view of Chicago.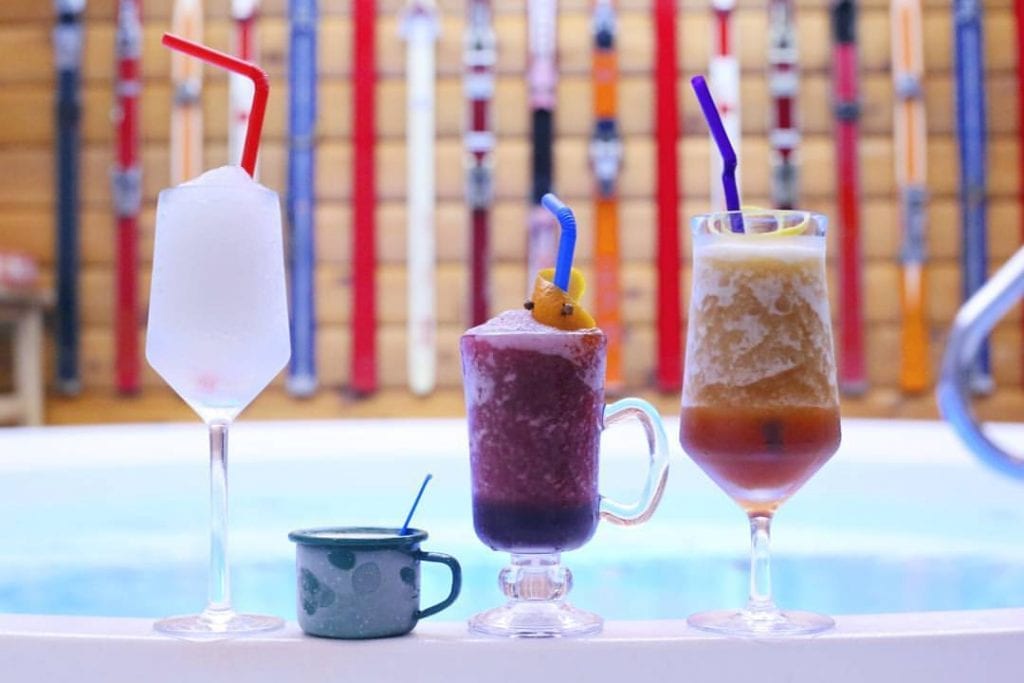 Bunny Slope | 15 E. Ohio St.
While Chicago doesn't have a ski-lift (or ski-mountains… or ski lodges), Chicago's River North neighborhood does have a retro-chic ski-lodge perfect for any special occasion. Bunny Slope is a throwback from the 1960s ski-lodge, complete with cabin-decor and a cozy fireplace. Did we mention there's a hot-tub as well? Splish-splash with your bubbles and enjoy this eclectic atmosphere with top-notch beverages!
*Note: Bunny Slope is reservation-only for parties of 20 (maximum). Make some friends at our other bar options to make Bunny Slope your go-to party haven.

Big Joe's 2  & 6 Pub | 1818 W Foster Ave
Probably the most dive-y of places for a one-of-kind experience but don't let looks deceive you; Big Joe's 2 & 6 of Ravenswood Manor is the home of Turtle Races! It's like the Kentucky Derby, but with turtles and domestic beers… minus the hats, horses, and mint juleps. On Fridays, Big Joe's transforms its beloved pool table into a race-track for our reptilian friends. Spectate and cheer for your turtle or even make it a team sporting event for you and your friends!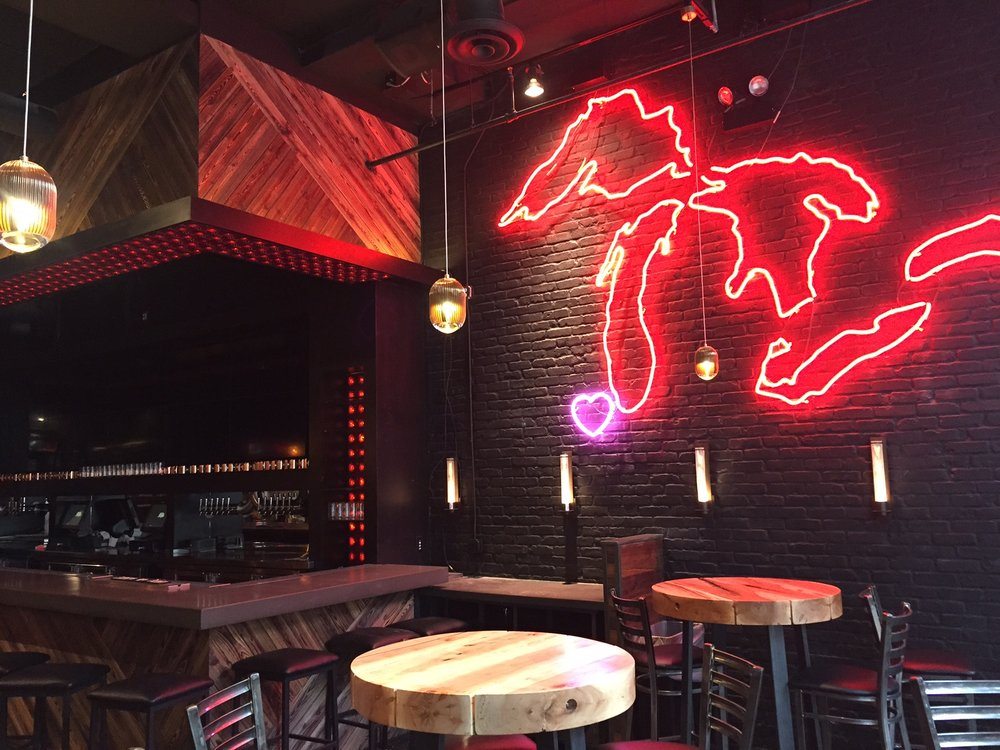 Happy Camper Old Town | 1209 N Wells St
This may be the future of millennials, especially when we age: brunch-themed pizzas, boozy morning drinks, twinkly-lights with neon, and brunch bingo. Nursing homes (or wherever we end up) are going to be lit and trendy. All joking aside, Happy Camper in Old Town has a fresh interpretation of bingo. Give a little, get a little, and score some while you play this famed-game of chance. All proceeds benefit a local charity so be sure to bring the $10 suggested donation. Feel good about your brunch this Sunday and maybe you will realize your potential as a bingo-badass.
*Note: Happy Camper's Brunch Bingo starts at 1:30 pm every Sunday – be sure to arrive early!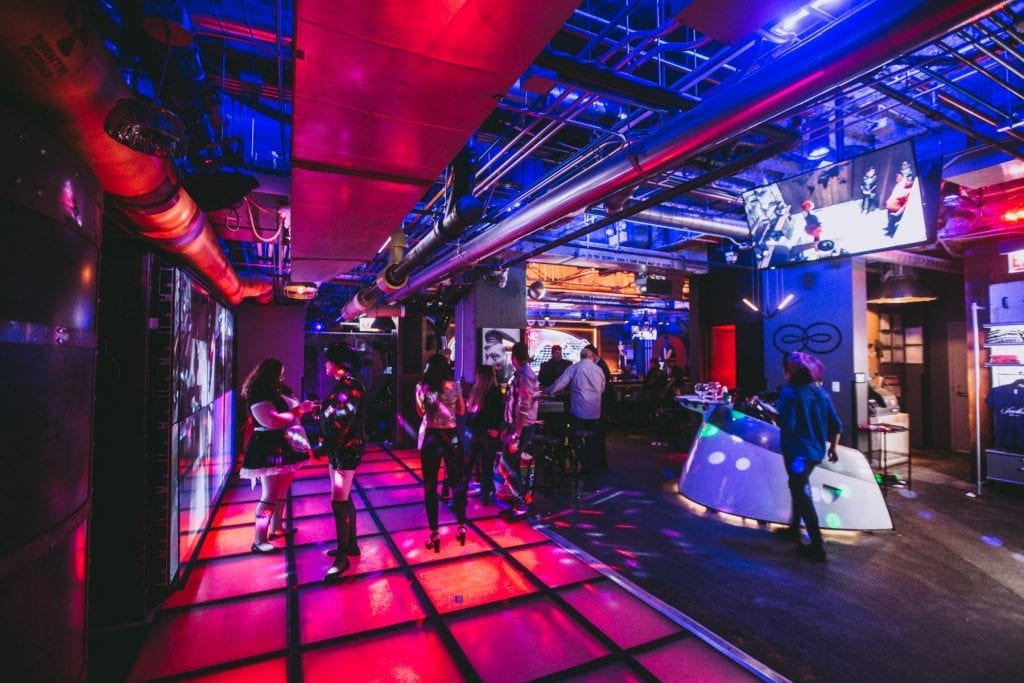 SafeHouse Chicago | 60 E Ontario St
Whether you're Agent 007, Evelyn Salt, or Agent Scarn from Threat Level Midnight, SafeHouse offers a whimsical, mission-like atmosphere, complete with undercover events, "in-spy-red" drinks, and shareable cocktails. River North's not-so-secret spy-themed bar is ideal for those in groups or on dates who want to flex their prowess of perception all the while enjoying a beverage (or sharing one). Come later in the evening and explore the lounge's nooks or ignore the imminent mission and dance the evening away (in other words, do the Scarn!). With all the events SafeHouse offers, you're sure to have fun and look good while doing it.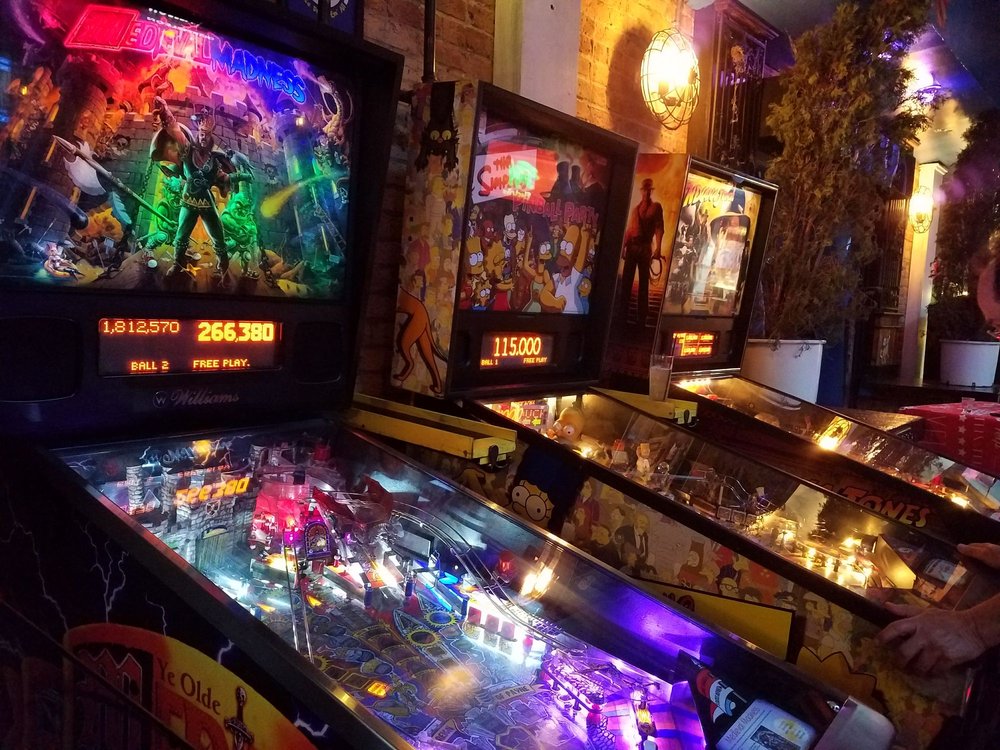 Replay | Lakeview, Andersonville & Lincoln Park
With various locations across Chicago, Replay has managed to create a one-of-a-kind relaxed environment for those who want to play their favorite arcade games of yesteryear with a craft beer or cocktail in one hand. It's like the ultimate adult playground. Throughout the year, Replay also redesigns the bar into a "pop-up." From Spongebob to Harry Potter or Rick and Morty, Replay brings its best self for you to experience your favorite fictitious worlds while playing Skee-ball and enjoying their beverage. With the novelty of a pop-up-themed bar and all the games of your childhood in one place, you're sure to think you're in arcade heaven… or Hogwarts….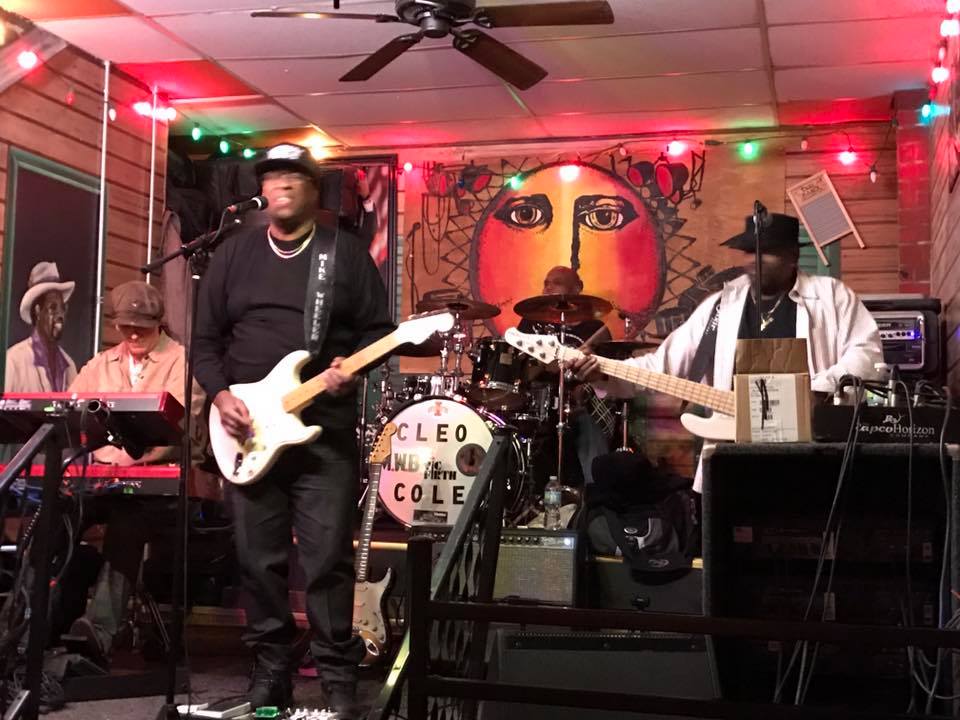 Kingston Mines | 2548 N Halsted St
Established in 1968, Kingston Mines in Lincoln Park is an unforgettable evening for any jazz and blues connoisseur alike. Kingston Mines has two rooms and two stages so you have twice the opportunity to savor the melodies, hum to the harmonies, and tap to the riffs. Kingston Mines has been a staple for Chicago, being the longest-running blues and jazz club here. A perfect combination of riffs, raffs, and old-time friends- Kingston Mines brings you an evening of approachable yet top-notch entertainment, complemented by strong drinks and homestyle cooking (BBQ and okra!). Feed your soul and your stomach!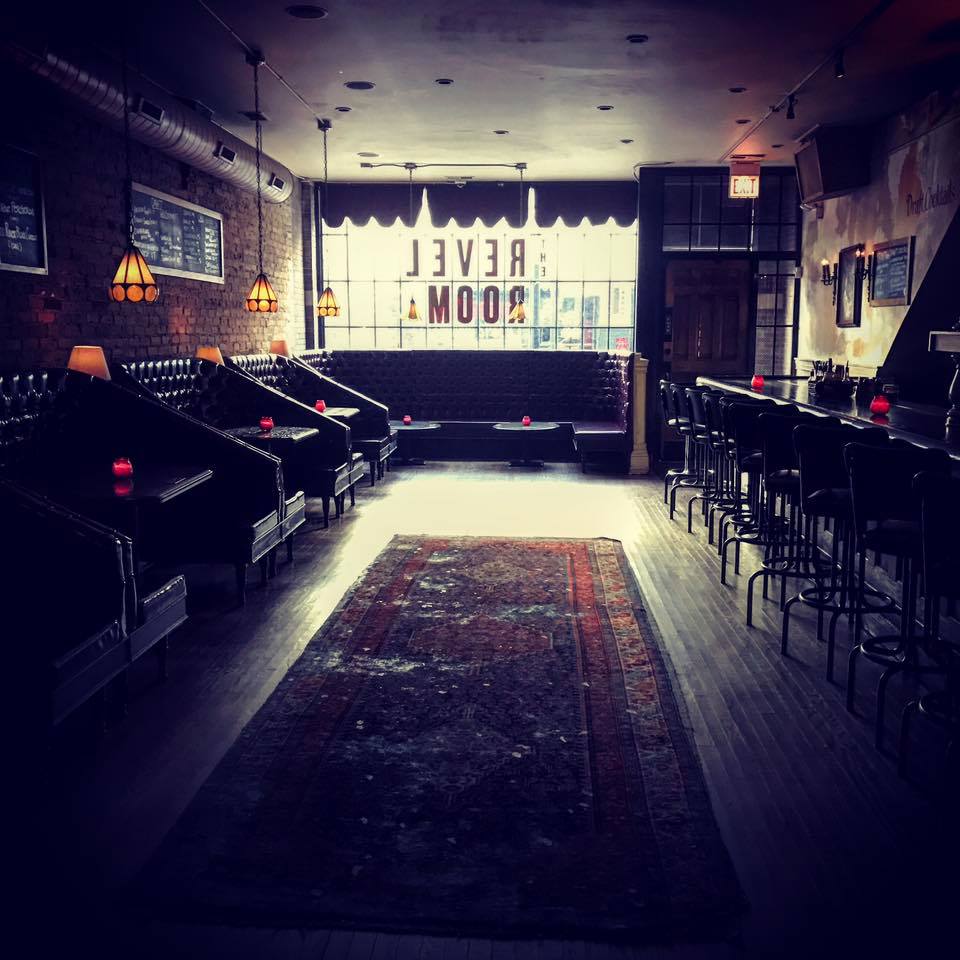 The Revel Room | 1566 N Milwaukee Ave
Specifically on Monday nights, The Revel Room hosts Industry Night karaoke. This is unlike other karaoke's in Chicago — primarily because of the juxtaposition that is The Revel Room. First, you're in Wicker Park, which is unapologetically hipster. But then, the decor of The Revel Room is that of the Victorian era (imagine these massive, leather booths paired with ornate light fixtures and dim lighting). Then, to top it all off, The Revel Room's creative and friendly bartenders craft well-balanced classic cocktails while belting out Celine Dion… So, here's the deal: weekends, The Revel Room is your typical Wicker Park old-time-y feel bar with a DJ. However, on Mondays, there's a karaoke session, in which the emcees and bartenders all join in the fun. It's quite the experience where you're included as a spectator, performer, and friend. 
Singing Hall and Oates or watching turtle racing? Enjoying classy drinks in a skyscraper or in a retro-chic ski-lodge? B-I-N-G-O: you can have it all at any of these Chicago bars!
At UrbanMatter, U Matter. And we think this matters.
Tell us what you think matters in your neighborhood and what we should write about next in the comments below!