Whether you're a season ticket holder or an every-so-often visitor, attending a live sports game is always a great time. Nothing beats a stadium atmosphere where everyone in the crowd is rooting for the hometown team. The sounds, the smells, and the live-action all combine to add to the experience. Of course, it isn't a complete experience without all of the delicious stadium food and concessions. And when it comes to tasty food, Chicago stadiums have some of the best around. Between Wrigley Field, Soldier Field, the United Center, and Guaranteed Rate Field, we've got you covered with five of the best Chicago stadium foods.
View this post on Instagram

#Chicago came to play this October!

A post shared by Garrett Popcorn (@garrettpopcorn) on Sep 28, 2020 at 1:04pm PDT
Garrett's Popcorn (Wrigley Field)
Move over peanuts and cracker jacks, it's popcorn's time to shine. Garrett's Popcorn, one of Chicago's most famous popcorn makers, has made its way into Wrigley Field. Their popcorn is the perfect stadium food if you're looking for something light to snack on. You can't go wrong munching on a bag of their cheese corn and caramel crisp mix which is sure to satisfy your sweet and savory cravings.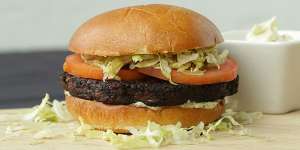 Legacy Burger  (United Center)
If you're craving a burger during your next visit to the United Center, then you'll have to try Legacy Burger. Not only do they have some of the best burgers in the stadium, but they also have a variety of non-meat options to satisfy different diets. And don't even get us started on their boozy, "Not for Kids" shakes. A strawberry and Smirnoff vanilla shake? Sign us up!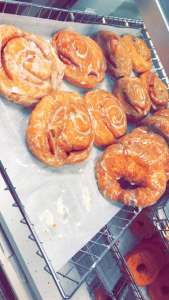 Old Fashioned Donuts (Soldier Field)
When the Bears fail to give you a rush at the game, look to Old Fashioned Donuts to get your blood flowing again. Not only will their donuts satisfy your sweet tooth, but the shop also offers coffee if you need some caffeine to get you through the day. And with the way this Bears team plays, you might just need it. Hopefully, that won't be the case once more fans are allowed back to Soldier Field.
View this post on Instagram

Shout out to @hubbardmjones for this tasty @touchofmodern shoot featuring @lilliesq and @catheadsbbq some seriously good BBQ

A post shared by Lillie's Q (@lilliesq) on Oct 24, 2020 at 12:34pm PDT
Lillie Q's (United Center)
Next time you're at a Chicago Bulls or Blackhawks game, make sure you check out Lillie's Q. This restaurant is a barbecue lover's dream with a menu featuring items like a slow-smoked brisket sandwich and bbq pulled pork nachos. No need to save room for dessert at Lilie's Q since you'll definitely want to fill up and try all their different sauce options.
View this post on Instagram

I LIKE baseball but I LOVE sunshine, hotdogs, and beer.

A post shared by Chicago Food Blogger • 312food (@312food) on May 27, 2017 at 12:55pm PDT
The Comiskey Dog (Guaranteed Rate Field)
It's no secret that Chicago does hotdogs better than anyone else. And when it comes to stadium hotdogs, the Comiskey Dog takes the crown. Sold at Guaranteed Rate Field, home of the White Sox, the Comiskey Dog is the textbook Chicago-style hotdog. If you're really up for it, they do offer the option to order it in a footlong size. However, there's a good chance the hotdog will break at some point if you take that route. Don't say we didn't warn you.
At UrbanMatter, U Matter. And we think this matters.
Tell us what you think matters and what we should write about next in the comments below!
Featured Image Credit: 312food Instagram
The post The Top 5 Chicago Stadium Foods appeared first on UrbanMatter.