March Madness 2021: Medium Rare Bracket predictions
By Chris O'Brien,
today at 7:40 am
Note – If you want to dive right into the picks, click here.
You can also skip ahead to the Final Four or a specific region.
But if you don't mind reading my yearly March Madness reflection, hey, let's begin!
When I was a senior in high school, I had my wisdom teeth removed the opening week of March Madness. For that Thursday and Friday, I was home from school, watching basketball all day. It was a luxury I didn't think I'd enjoy again until a future vasectomy.
But here we are in 2021. A time when we're working from home, gambling feels pretty much legal, and we're already staying inside for weeks on end. It's the perfect recipe for a basketball binge.
And our country needs this tournament. Think about it, we haven't had a March Madness game in 700+ days! I think that's why we've been so mad at each other. The only things to bring us together were the Michael Jordan documentary, the Gamestop rally (the ultimate No. 16 seed vs. a No. 1), and the "I'm not a cat" video.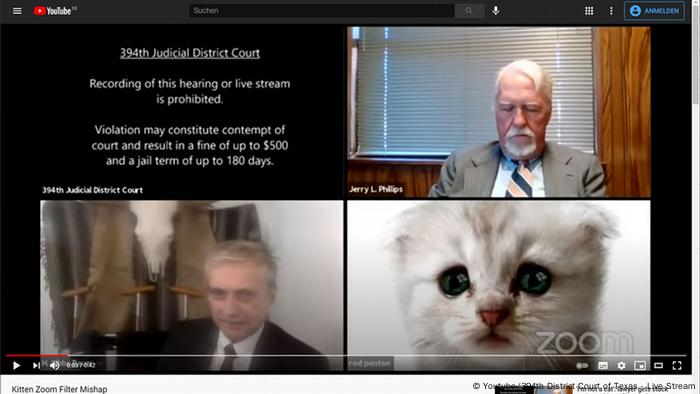 Setting the Stage
This year's tournament brings two significant differences. First, limited fans. The tournament will be played in an Indianapolis bubble similar to last year's NBA Playoffs.
I keep going back and forth on this, whether this means more or less upsets. Is it easier to shoot free throws in a quiet gym, blocking out your own anxious thoughts or trying to block out this guy?
Argument for more upsets – The top seeds won't have home court advantage. When Kansas played in Kansas City* or Duke/North Carolina played in Raleigh, this gave Goliath an advantage.
*Kansas fans know the Sprint Center ends up being kind of a curse, but I digress
Argument for less upsets – But what would also happen, in the case of a Cinderella team, is 75% of the arena became die-hard fans of the underdog. A school we never heard of could hit 5 threes in a row, because 15,000 fans were cheering them on. Will that still happen in a glorified scrimmage environment?
The other difference: Traditional powers are having a down year. Kentucky and Duke aren't even in the tournament. North Carolina is an 8 seed. Michigan State and UCLA play each other in the 11-seed play-in game.
If you're thinking, man, this guy's just rambling now, here's a second chance exit ramp, click here to go straight to the picks.
Love & Hate
Over the years, I've had a love/hate relationship with March Madness. As a die-hard Kansas Jayhawks fan, we've had it pretty good, but we've still had to grieve over Northern Iowa, VCU, Bucknell, Bradley, Wichita State. And plenty of Elite 8 exits.
'97 was devastating. 2003 fell short to Carmelo in the finals. 2020 we were heading in as the No. 1 overall seed and they canceled the whole tournament!
To keep the examples going – Even if you're a Duke fan with 5 titles in the last 30 years, you still had to go through losing to a No. 15 (Lehigh) in 2012, a No. 14 (Mercer) in 2014, and a No. 11 (VCU) in 2007.
Kentucky had their 38-0 season end in an upset loss to Wisconsin. North Carolina had their heart literally ripped from their chest against Villanova.
Tom Izzo is the King of March Madness, but he hasn't won a title in 20 years. No team, no matter the pedigree, is safe from the ides of March. That's what makes this tournament so great. It's the basketball equivalent of Game of Thrones.
And look at the person who wins the office pool by picking their favorite colors. The whole thing feels incredibly random and the college basketball experts (or wannabe experts like myself) make political pollsters look good.
But there's also a sense of order, despite all the upsets. Over the last 20 years, 12 titles went to North Carolina, Duke, Kansas*, Kentucky, or Villanova.
Of the other eight titles – Connecticut won 3 and Florida 2 of those. That's not a ton of variety.
*I gave Kansas the 2020 title since they ended the regular season #1 overall. Just seemed like the right thing to do…
The best team doesn't always win in terms of who came in #1 overall or had the most NBA players. But the team who wins ends up looking like the absolute best team by the end of the tournament. And, in retrospect, they seem like such an obvious pick.
How does this happen? How does the champion and the Final Four teams stay somewhat hidden on our brackets? I think there's something that happens along the way where a team elevates and becomes a different squad than they were 3 weeks ago. So it's not really who enters as the best team but which one of the really good teams has the highest capacity for growth.
A lot of this growth happens during that one scary game where it looks like all hope is lost. Could happen at any point, a lot of times it's the very first weekend. This creates the great March Madness paradox, because — as a fan — you don't want to experience the stress of that nail biter game, but it's also a necessary requirement if you want to be a Final Four team. It's basketball's Divine Comedy, to reach paradise requires the journey through hell.
Man, I love this tournament! Alright, what do you say we look at the bracket?
West Region
Gonzaga to the Sweet 16
Gonzaga is in the land of misfit toys. No. 3 Kansas and No. 4 Virginia, we still don't know how many players will be eligible or 100% healthy due to COVID (and Gonzaga beat both of them earlier this season). No. 5 Creighton finished their season losing by 25 points to a .500 Georgetown team. No. 2 Iowa is a tough opponent, but Gonzaga beat them by 11 earlier this year. It's a really good draw for the Zags.
I will say this, I'm convinced a No. 8 or No. 9 will beat a No. 1 seed this year. So I've been looking closely at each region. Each possible matchup. Here's the case for why it could be Oklahoma or Missouri upsetting Gonzaga.
Oklahoma – At the end of February, the Sooners were the No. 7 team in the country. They've also got one of those "been there for 7 years, rocks a blonde mustache" guys in Brady Manek. Both are very good signs.
Missouri – Been in and out of the Top 25 all year. They've got No. 1 seed caliber wins with one over Illinois and one over Alabama. Plus solid wins against tournament teams like Oral Roberts, Oregon, Wichita State, Liberty, Arkansas, Tennessee, and Florida. As I'm typing this I'm like, "Wait, that's secretly one of the best list of wins out there."
Almost talked myself into it, but I think this ends up being Gonzaga's early round scare, not a full upset. Missouri's lost 6 of their last 9. Oklahoma – 5 of their last 6. I'm going Missouri over Oklahoma in the throwback Big 12 game, then taking the Zags over Mizzou.
Virginia somehow makes it to the Sweet 16
This group of four (Virginia, Ohio, Creighton, UC Santa Barbara) looks pretty chaotic. As mentioned earlier, Virginia and Creighton aren't coming in strong.
On the Cinderella side, Ohio might have the best player in this group of four with point guard Jason Preston who averages close to a triple double (16, 7, and 7). They also took Illinois down to the wire (77-75) at Illinois. UCSB, courtesy of the ESPN Tournament Challenge scouting report, has "won 18 of their last 19 games. Tough defense. Great free throw shooting."
But Creighton's been hovering around the Top 15 all season long. Lot of upperclassmen. High scoring. Five players average double figures. Great assist-to-turnover ratio.
And Virginia won the regular season ACC title. Might've been on their way to win the ACC tournament pre-COVID. Always tough defense. Plus I think they're gonna have the "Social Distance" boost, an extra layer of COVID defense where their opponent doesn't want to get too close. Rebounding, diving for loose balls, taking it into the paint, look for their opponents to be a little timid in these areas the same way we'll all react the first time we hear a sneeze back in the office.
I think this one looks like there will be upsets, but ends up being chalk. It's like when you have a gas station hot dog and go home expecting the worse, but end up feeling surprisingly good. I've got Virginia and Creighton then Virginia over Creighton.
Kansas to the Sweet 16… a pick only a (crazy) fan could make
I pick the Jayhawks every year to win the whole tournament. It's not the greatest strategy, but I can't part with tradition. So, first, here's why it's not such a crazy idea.
The best way I can describe Kansas is our starting five has five guys who would be great No. 3 options on a championship team.
Marcus Garrett was National Defensive Player of the Year last season. David McCormack is a solid big man averaging 17 ppg over the last four games. Jalen Wilson is a versatile stretch-4, best rebounder on the team. Christian Braun hits threes, get to the basket, also rebounds well. And Ochai Agbaji is a projected 1st round NBA pick who looks like a spitting image of Jimmy Butler. He's also fresh off his career best game scoring 26 points, hitting three clutch threes in a row. It was his Neo in the Matrix moment.
Winners of 8 of their last 9. Victories over Baylor, West Virginia, Texas Tech (2x), Creighton, Oklahoma State, Oklahoma (2x). All their losses came to ranked teams and only one team in the field (Oklahoma State) has more Top 25 wins than KU.
But, like Mr. Garrison in South Park's Vaccine Special, Kansas arrives with a lot of baggage. Let's begin:
Jalen Wilson won't play in the opening weekend due to COVID
Still uncertain if David McCormack will play in Game 1
Nail biter early in the season to North Dakota State and almost lost final regular season game to UTEP. Both concerning for possible upset picks to Eastern Washington, Drake, or Wichita State
Not having the homecourt advantage with the traveling thousands of Jayhawks fans is also a major loss
Agbaji has a little bit of the Andrew Wiggins flaw; incredible amount of talent (as seen in his Neo moment), but doesn't have the full Kobe gene. Hope is Agbaji will rise in the tournament like Brandon Rush did in 2008, but we've been waiting all season to see a sustained stretch of 20+ point games
The beatdowns to Texas and Tennessee showed what happens when Kansas is outmatched physically (although KU almost won the Texas rematch later in the season, this first game still haunts)
The team I'm most afraid of is USC. The Trojans have a 7-footer named Evan Mobley who blocks a ton of shots. This would be bad news for Garrett's drives to the rim and would hurt McCormack too. And with Wilson out, that's putting a lot of scoring pressure on Agbaji and Braun.
The problem with having five really good No. 3 guys, is not having a No. 1 guy. If Agbaji can play like he did against Oklahoma, Jayhawks have a great shot to make it to the Sweet 16, maybe the Elite Eight. If not, it could be an early exit.
For non-Kansas fans, I wouldn't recommend following me down this championship road. There are safe exit ramps at USC, Iowa, and Gonzaga.
Iowa to the Sweet 16
Before the brackets were released, I thought the best three teams in the tournament were Gonzaga, Illinois, and Iowa. I don't see the Hawkeyes having much trouble with Oregon, VCU, or Grand Canyon
Kansas to the Final Four
I'm going Kansas, but here's why — when I take the KU goggles off — I think Gonzaga is a wise choice.
I actually see the Oklahoma/Missouri game being scarier for Gonzaga than their Sweet 16 opponent. Pretty safely moving the Bulldogs to the Elite 8.
Iowa's got a perfect roster for the tournament. They've got a potential National Player of the Year candidate in Luke Garza who will turn the big men in this region into bbq chicken. He's surrounded by a ton of three point shooters. Iowa scores 83+ ppg. It will be hard for anyone to keep up.
Except for Gonzaga. And that's what happened when they played each other earlier in the season. It was strength on strength and Gonzaga won 99-88. Look for Jalen Suggs to climb higher and higher up the NBA Draft board this tournament. And keep in mind Gonzaga has 3 of the Top 10 players in America.
East Region
St. Bonaventure to the Sweet 16
This is a very dangerous move. But for Michigan fans, you'll go from anger to Pure Michigan relief when you see just how little basketball science went into this pick.
Two reasons I'm taking the Bonnies. First, this photo.
Second, a guy by the name of Richard Rohr has had a very popular quarantine. I kept hearing people bring up his books (The Universal Christ, Falling Upward, Everything Belongs) and his podcast (Another Name for Everything), then I'd hear other podcasts referencing Richard Rohr too (especially comedian Pete Holmes' podcast). I listened to him, read a few of his books, really enjoyed his work.
Here's my logic – Richard Rohr is a Franciscan. St. Francis was like the Dean Smith of Catholic saints and St. Bonaventure was his Roy Williams protege. I say the Bonnies "rohr" into the Sweet 16 with the big upset win.
My Florida State trust fall to the Sweet 16
If you watch Florida State, they look like one of the most athletic, talented teams in the country. And at one point they were 14-3, might've been in the Top 10.
But it hasn't seemed to click long-term, which is true of a lot of the Florida State teams these last five years. The way they finished the season was very Florida State. 3-3. Win. Loss. Win. Loss. Win. Loss. All signs point to another "Win. Loss" pattern with a Round of 32 exit.
But I didn't like the UNCG upset pick. And I feel like Georgetown used all of its magic with their improbable Big East tournament run. Which leaves me with Colorado or Florida State. And my only real reason for picking Florida State here is going ACC over Pac 12.
Wow. I'm using Richard Rohr and an arbitrary ACC over Pac 12 measurement as my go-to logic. If you're looking for Medium Rare picks, you've certainly come to the right place!
Favorite upset pick of the tournament: Abilene Christian to the Sweet 16!
Abilene Christian has all the "classic hits" when it comes to a Cinderella team.
They've got the pesky defense. No. 1 team in the country in forced turnovers, No. 2 in steals per game. They've got the tall pasty white guy. The long-haired guy. The stocky big man. The crazy fast small point guard (Damien Daniels – 5'7"). And the perfect names to hit a March Madness buzzer beater:
Reggie Miller for three!
Joe Pleasant at the buzzer!
And, to make the upset recipe even sweeter, they've got the chip-on-the-shoulder David and Goliath pairing with the University of Texas (Abilene, TX. 4,500 students vs. 51,000). Plus I've got the personal connection. I grew up in a Church of Christ congregation and Abilene Christian is one of the biggest Church of Christ schools (this comes into play whenever Pepperdine makes the tournament too). All of that combined together, I couldn't resist this upset pick.
Now, to be fair, Texas has a ton of talent. Great guards and NBA-sized big men who should be a big problem on the glass. Texas at their best could win the whole tournament. They're a very solid Final Four pick.
But here's what I think will happen. Texas is ranked 239th in turnovers per game. So they'll start by turning the ball over multiple times, Abilene will get an early lead, something like 12-4. And the defense won't let up. Then frustrations will keep mounting and it'll turn into this suffocating panic attack experience for Texas realizing they're trapped in a bubble against this frustrating team that won't let up. Abilene rides this momentum, Texas loses by 10-15 points.
And once you've committed to Abilene Christian over Texas, you gotta take 'em past BYU, Michigan State, or UCLA.
Although I can't help but see a path emerging for Mr. March, Tom Izzo. Keep an eye on this…
Alabama to the Sweet 16
I feel pretty strong about this one. They have a nice draw with UCONN and Maryland as their 7/10.
And right as I'm feeling more and more confident in Alabama, I look closer at Iona and see a familiar March Madness name: Rick Pitino.
UCONN. Maryland. Rick Pitino. And I'm going with a football school. I'm feeling worse and worse about this pick…
Alabama to the Final Four
I can just feel the red ink forming in this region. I might only get 2 games right and I'm not even sure about that!
But joking aside, I still feel pretty confident about this Alabama team. Few bullet points:
They won the SEC (16-2) and the SEC tournament. Big 12 and Big 10 got all the headlines this year, but I think the NCAA tournament will show the SEC was underrated.
High scoring. Top 10 in rebounding. Up there in blocked shots too
I think Herbert Jones is a star in the making, could become a household name by the end of this tournament. Likely National Defensive Player of the Year. Obscure old school reference here, but he's got a lot of Gerald Wallace to his game; the kind of guy who'll score 15, grab 11 rebounds, 4 assists, 3 blocks, and 2 steals
And if Nick Saban is allowed in the bubble, I think this pick becomes a lock.
Midwest Region
Illinois to the Sweet 16 (despite a horrible draw)
I think Illinois is the best team in the tournament.
Gonzaga's last six games involved: St. Mary's, San Diego, Santa Clara, Loyola Marymount, St. Mary's, and BYU.
Illinois' version?
@ Wisconsin. @ Michigan. @ Ohio State. Rutgers. Iowa. Ohio State.
And they went 6-0! Including a 23-point beatdown of the Wolverines that cratered my confidence in Michigan so much that I picked St. Bonaventure.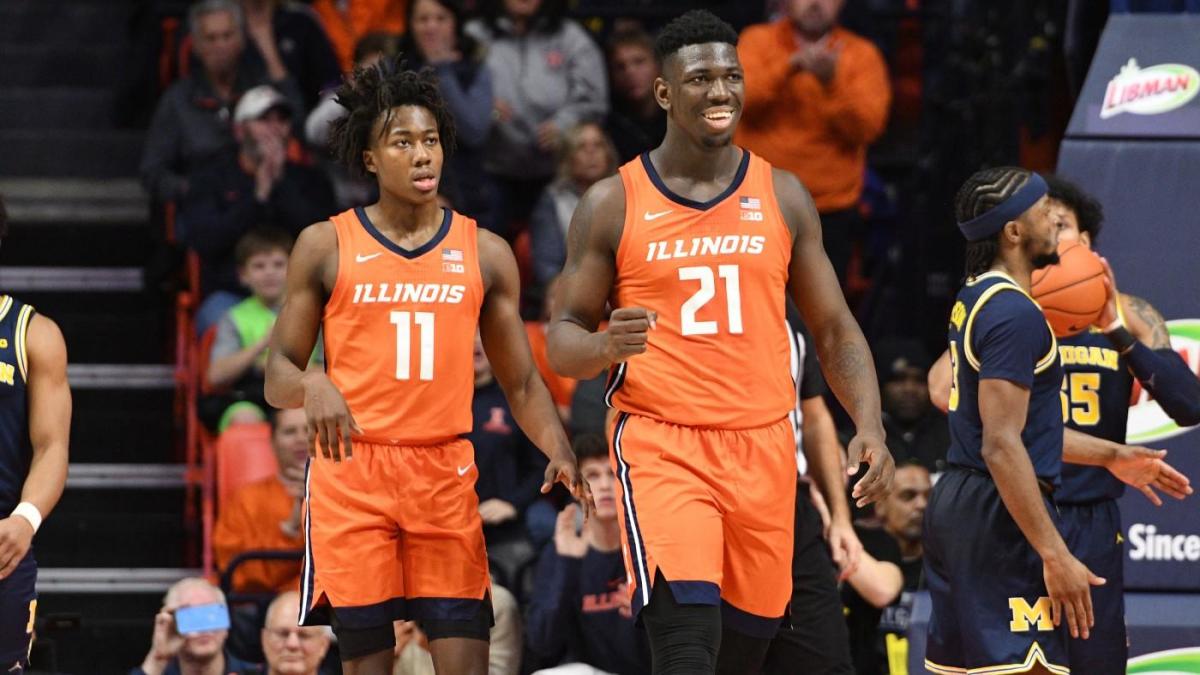 Illinois reminds me a lot of last year's Kansas Jayhawks. Ayo Dosunmu playing the role of a much taller (6'5") Devon Dotson. Kofi Cockburn playing the role of the giant, man amongst boys, Udoka Azubuike. Trent Frazier is their Marcus Garrett defensive stopper.
Andre Curbelo is the streaky guard who will probably have multiple 20+ point games. And if Cockburn gets into foul trouble, or concerns with his free throw shooting late in a game, Giorgi Bezhanishvili is a more than capable backup. He'd start at center for most teams in the tournament.
Great coach. Brad Underwood who climbed the ranks from Stephen F. Austin to Oklahoma State to Illinois.
This is my pick to reach the final game. And if I didn't have my superstitious Kansas stuff, I'd take the Illini all the way. They remind me a lot of previous champions like Villanova or that UCONN team back in the day with Ben Gordon and Emeka Okafor who never shy away from a challenge. They took pride in going into Wisconsin, Ohio State, and Michigan, winning on their home floors. They dug deep and won the overtime game in the Big 10 tournament.
But the Selection Committee couldn't resist the potential in-state storyline upset with Loyola. As Jake Lourim writes in this article: Remember Loyola? This team is even better than the one that made the Final Four.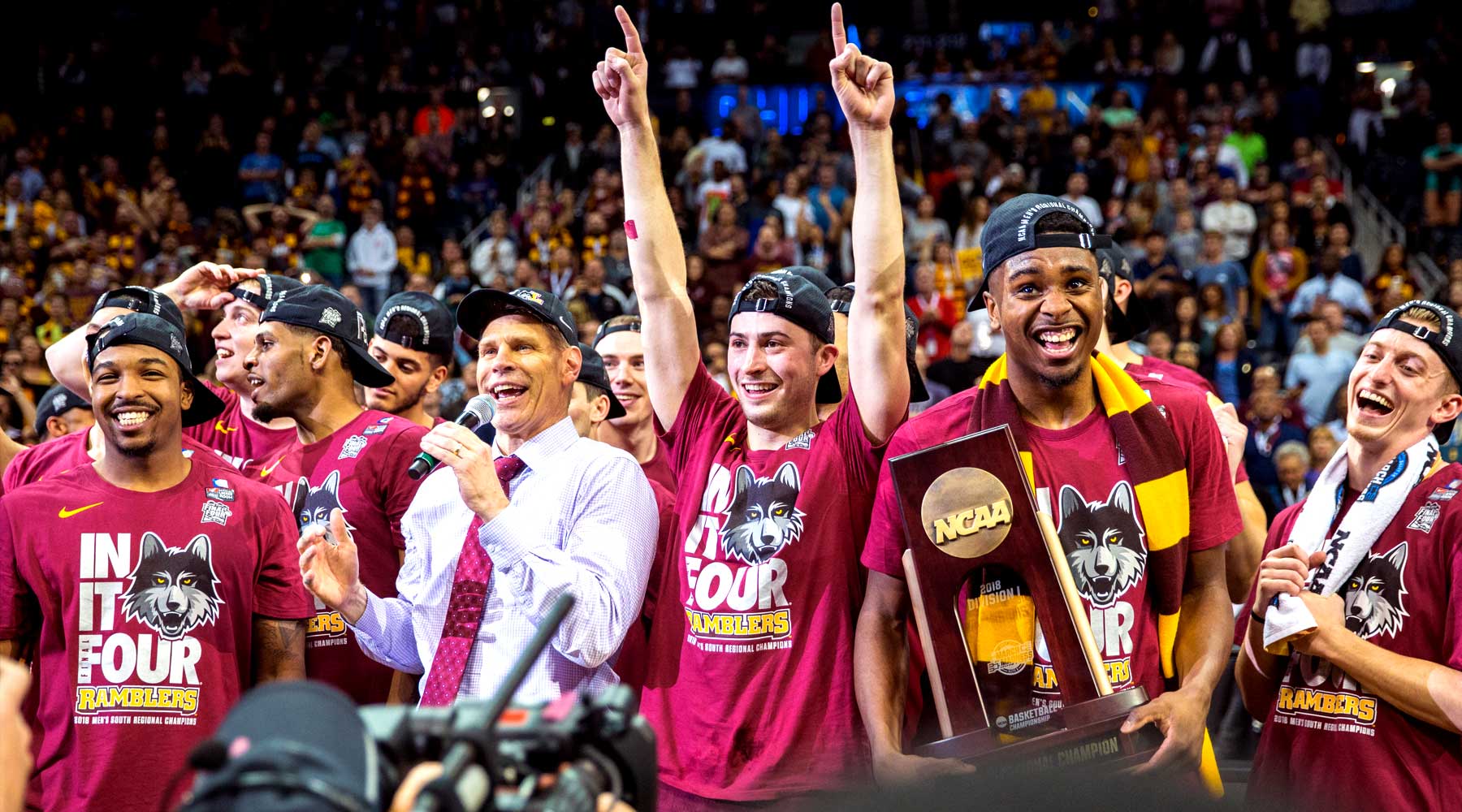 Suffocating defense, holds opponents to 55.5 ppg. They've won 17 of their last 18, the only loss coming by 1 point. Top 5 in field goal percentage. Top 25 in assists to turnover.
And I think what's most frightening — and where I think the Selection Committee really screwed up — Loyola is ranked No. 9 in the KenPom (think super computer) rankings. For perspective, No. 7 and No. 8 are Ohio State and Alabama. Loyola is a No. 2 seed hiding in a No. 8 jersey.
But what happens so often in the NCAA Tournament is you get excited about a second round game on the bracket that never happens. Don't be surprised to see ACC Tournament Champs Georgia Tech spoil this Illinois showdown. That's ultimately why I felt comfortable taking Illinois, the odds of Loyola beating Georgia Tech then beating arguably the best team in the tournament was a stretch I couldn't make, especially after using all my risk-taking chips on St. Bonaventure and Abilene Christian. I also wonder how much of the Loyola hype comes down to sportswriters making up for missing the Loyola pick three years ago.
Doesn't get any easier, I'm picking Oklahoma State to Sweet 16 but that's a loaded part of the bracket
The Tennessee team who beat Kansas (80-61) looked like the best opponent — at least for that night — that I've seen all year. Exception, maybe, being Gonzaga.
But then they go out and lose to Ole Miss their very next game. Lost to Kentucky a few weeks later. Auburn a few games after that.
And I don't love picking Rick Barnes in the tournament either…
Plus, Oklahoma State feels like such a better pick. They've got the projected No. 1 draft pick in the freakishly gifted 6'8" point guard Cade Cunningham. The Cowboys have the most Top 25 wins (9). They've won 8 of their last 10 including wins over Baylor, West Virginia (2x), Oklahoma (2x), Texas Tech and a close loss to Texas in the Big 12 championship game. They look like a really strong Sweet 16 pick and even a dark horse Final Four selection.
But they're 324th in turnovers. And former freshmen stars in the Big 12 (Kevin Durant, Trae Young, Blake Griffin) never made it out of the first weekend.
Oklahoma State's first round opponent, Liberty, has wins over Missouri and Purdue. The upset potential is higher with Oklahoma State than Tennessee.
But this type of thinking leads to problems in my brackets. When I pick the team "least least likely to lose" instead of the team "most likely to win" (I'd take OK State over Tennessee in a head-to-head matchup, but I'm more worried about an OK State first round loss than I am Tennessee) things tend to fall apart. So I'm going OK State. They've got better "Song of the Year" (more on that later) with their Big 12 Tournament victory over Baylor.
Come on, Bob Huggins, don't let me down! West Virginia to the Sweet 16
San Diego State was expected to make a deep run in last year's tournament and here they are with a lot of the same guys in 2021.
Syracuse, the idea of that dreaded 2-3 zone in a near empty gym feels like the recipe for another surprise run.
Morehead State beat a really good Belmont team (26-4, they should be in the tournament) by 15 in the OVC championship game.
And West Virginia spent most this season in the Top 15, was in the mix to win the Big 12 at one point.
West Virginia always burns me. I take them far and they lose 1st or 2nd round. Then I respond the next year by taking them out in the First Round, they go onto the Sweet 16 or Elite 8. I'm back in the "pick them too far" round of this always disappointing game.
But I always like West Virginia in the tournament because defense travels. Especially that second game when a team only has one day to prepare. I like the Mountaineers over Morehead State because when Morehead State played Kentucky and Ohio State early in the season they lost by 36 and 33 respectively.
Again, getting back into that shaky ground from earlier, but I'm more worried about a San Diego State upset loss to Syracuse than I am West Virginia falling to Morehead State. So, with that in mind, Bob Huggins, I'm trusting you here…
Houston to the Sweet 16
My Jayhawks bias extends to former Jayhawk Quentin Grimes (Houston, averages 18 ppg). The Cougars have been in the Top 10 all year. They're 24-3. Lost by a total of 15 points in those three games. Feel pretty confident taking them to the Sweet 16.
Illinois to the Final Four
Loyola is Illinois' hardest game, even more so than Tennessee or Oklahoma State. Taking the Illini there and then giving Bob Huggins one more victory (look for an early West Virginia exit in my bracket in 2022) before Illinois wins there.
South Region
Baylor to the Sweet 16. But this is a great spot for an upset
Remember the computer ranking site (KenPom) that has Loyola at No. 9? Well, they've got Wisconsin at No. 10. Plus the average age in the Badgers' starting 5 is 22.6. That's a full year older than the Chicago Bulls!
But Roy Williams is a remarkable 29-0 in the 29 years he's been in the NCAA Tournament at Kansas and North Carolina. He's been to 19 Sweet 16s, meaning his First Round record is 100% his Second Round record is 66%. That's really hard to bet against.
We'll get more into Baylor's strengths as this post goes on, but I like them to comfortably beat either Wisconsin or North Carolina. I've needed all week just to pick the winner of Wisconsin vs. North Carolina (I'm going with Ol Roy at UNC. Wisconsin has lost 9 of their last 14 games. Their schedule was brutal in the Big 10, but that's still a lot of losses), finding the confidence to then pick them over Baylor was too much of a stretch.
But I need to move on right now because I'm staring at those 29-0 and 19-10 stats and thinking about how much bigger North Carolina is than Baylor. I might actually, nope, gotta move on.
Purdue to the Sweet 16. Are they ever not in the Sweet 16?
I feel like I've seen this 20 times before, Purdue at the No. 4, Villanova at the No. 5.
Villanova's No. 2 scorer (Collin Gillespie) went down a couple games ago. The Wildcats went 1-3 to finish the season. Winthrop is 23-1 and this is a classic 12 vs. 5 upset. I've got Winthrop over Nova.
With the Winthrop upset, I feel pretty confident in Purdue beating a No. 13 then a No. 12 en route to what seems like their annual trip to the Sweet 16. And Purdue always seems to have a 7'5" guy.
Texas Tech to the Sweet 16
Utah State's really good. Arkansas really good.
But Texas Tech, and this seems like forever ago, played the most recent NCAA Tournament game (championship game against Virginia). Coach Beard is a rising star and one of the best preparation guys in college basketball. Give him a week to prepare for Utah State, he will dissect every possible scenario and have a minute by minute gameplan ready.
Plus I'm going with Colgate over Arkansas. Colgate has one of the most bizarre tournament resumes of all time. They've only played 14 games. They've only played 5 total teams! They're 7-0 against Boston University. Who can beat a team 7 times? They haven't lost since Jan. 3 (and that was only by 2 points). Their last 7 games have all been double digit victories.
And they're named after a toothpaste. That's all good enough for me. Colgate over Arkansas. Texas Tech over Colgate.
Ohio State to the Sweet 16
Ohio State is a couple of possessions against Illinois away from coming in 23-7, Big 10 tournament champions, might've been on the No. 1 line. And in both of those games against Illinois there were moments where I thought, "No one can beat this Illini team, they look incredible" yet Ohio State would really back from big deficits and almost pulled it off. That's enough for me to move them past Oral Roberts and either Florida or Virginia Tech.
Baylor to the Final Four
Similar to Illinois, I really like the Bears' path after that No. 8 / 9 game.
Baylor has the best guards in the tournament and the narrative, "Baylor was great pre-COVID layoff, but they haven't been the same since," isn't really accurate. They lost to Kansas in their first game back, at Allen Fieldhouse on Senior Night, then beat West Virginia, Oklahoma State, and Texas Tech, three Top 15 wins in seven days. Lost to Oklahoma State in the Big 12 tournament, but everyone's lost to Oklahoma State this last month. I think the Cowboys even took down the Lakers in that stretch.
Final Four
My wife was one of the 37 people watching the Grammy's this year. And I got to thinking, the analogy of "Artist of the Year," "Album of the Year," and "Song of the Year" works pretty well for the NCAA Tournament. Here's what I mean:
Artist of the Year – The best overall team. Usually has the best album too, but not always the case. "Artist of the Year" is the combination of most impressive resume and the team that looks like the best squad. I think this goes to the college version of the old San Antonio Spurs teams: Gonzaga.
Album of the Year – The most impressive resume/body of work. You could go with Gonzaga again with their undefeated record and victories over Iowa, Virginia, Kansas, West Virginia (really bummed the Gonzaga/Baylor game was cancelled). But I'd actually go with Illinois here, especially the way they closed out the season. Illinois has more losses (six rather than 0) but more songs at the top of the charts. Gonzaga is 26-0, but Illinois played 20 Big Ten games, won 16 of them, then won the Big Ten tournament.
Song of the Year – This is where things get interesting. If you take the idea that the team who wins the tournament is the team with the highest capacity for growth, one way to look for this potential is by searching for the best wins of the year. Teams in this category proved they can be the best team in the country, at least for 40 minutes.
So you take Michigan, Illinois, Gonzaga, Baylor. Best four teams, so, to win "Song of the Year," you need a victory over one of these No. 1 seeds. Those four teams have a combined 12 losses at the hands of 10 teams.
Minnesota
Illinois
Ohio State (2 nominees. Win over Michigan and win over Illinois)
Michigan State (2 nominees. Win over Michigan and win over Illinois)
Kansas
Oklahoma State
Missouri
Baylor
Rutgers
Maryland
A good rule of thumb — that I'm inventing this year — is to pick your National Champion as either the Artist of the Year (Gonzaga), Album of the Year (Gonzaga and Illinois), or one of the 10 teams from the list above. Make sense?
Here's a look at my Final Four, three teams follow this criteria and one I think I'll regret.
Alabama
Let's start with the regret. If I had more guts, I'd stick to my Song of the Year theory and take either Maryland or Michigan State out of the East region. But I'm going with Alabama.
Their Song of the Year?
SEC Tournament comeback win against Tennessee. Impressive, but Tennessee is a No. 5 seed. Michigan State beat two No. 1s. Tom Izzo's gonna do this again, isn't he?
Baylor
Their Song of the Year is an impressive 13-point early season win over Illinois.
But I'm breaking the rules a little bit and going back to last season for an even more impressive victory. This is like when Kansas won the 2008 National Championship, their Song of the Year was a 2007 victory over the 2-time defending champion Florida Gators (the squad with Al Horford and Joakim Noah).
Baylor beat the 2020 National Champion Kansas Jayhawks, 67-55 in a packed Allen Fieldhouse. Butler, Mitchell, Teague, Vital, were all part of that starting 5. The team that night and the team who beat Illinois can win this tournament.
This Baylor team was 26-4 last season and 22-2 this season. Very confident about this Final Four pick, especially after the UNC/Wisconsin matchup.
Kansas
Again, if you don't want to follow my KU bias, Gonzaga is a really safe pick. The Zags are Artist of the Year, possible Album of the Year, and their win over No. 2 seed Iowa is pretty close to a top tier Song of the Year.
But if you're going down this road to Lawrence, the late season win over Baylor shows the best-team-in-the-country potential. The Jayhawks won 71-58. Out-rebounded Baylor, 48-28. Held Baylor to 34 percent shooting and 23 percent behind the arc. If that team comes to Indianapolis, they're going to the Final Four.
But given the late COVID cases, and seeing the stretch from Jan. 12 to Feb. 6 where they lost 5 of 7 games, AND the way they were pummeled by Texas and Tennessee, I can't say this enough: This Final Four pick is extremely risky. I took Kansas all the way, can't end the tradition, but be careful here. If it doesn't work out, I only take part of the blame.
Illinois
Which leads to my pick for Song of the Year. Illinois' 76-53 stunning victory in Ann Arbor. Scoreboard shows 23 points, but it wasn't even that close.
This was such an impressive win that I immediately launched Illinois to my National Champion favorites and felt comfortable dropping Michigan to St. Bonaventure (something I'm 95% sure I'll regret).
Illinois has the Album of the Year. They're 13-1 in their last 14 with wins over Iowa (2x), Wisconsin (2x), Michigan, Ohio State (2x). They've got the player of the year in Ayo Dosunmo. Second team All America with Kofi Cockburn.
And yet it could all end via Sister Jean and Loyola in the second round…
Man, I love this tournament.
Let the Madness begin!
If you made it all the way to the end of this article, first off, thank you. I think you'll also enjoy another long article/e-book I wrote on the Kansas Jayhawks called "14." Available on Long Overdue Books. I'll be back for a norm Medium Rare mid-April.
Have a great week and enjoy the tournament!
Filed under:
Uncategorized
Tags:
Baylor, college basketball, Gonzaga, Illinois, Kansas, loyola, March Madness, Michigan, Michigan State, Oklahoma State, Roy Williams, Sister Jean, Sister Jene



Welcome to ChicagoNow.

Meet The Blogger

Chris O'Brien

I was born and raised in Midland, Michigan and moved here to Chicago a couple years ago after graduating from Hope College. I live in the city with my beautiful wife Ashley.


A little bit about me – I go to bed early, I enjoy greasy food and would wear sweatpants everyday if I were allowed to. I just signed up for a year-long Divvy membership, but could very well be the slowest bicyclist in Chicago.

I write the Medium Rare blog and will have a new post up every Monday.

Subscribe by Email
Completely spam free, opt out any time.
Read these ChicagoNow blogs
Chicago Cubs

news and comprehensive blog, featuring old school baseball writing combined with the latest statistical trends

Pets available for adoption in the Chicago area

It's like the couch potato version of Mr. and Mrs. Smith.
Read these ChicagoNow Bloggers
ChicagoNOW
©2021 CTMG – A Chicago Tribune website –
Crafted by the News Apps team