How Low is Home Inventory in Winnetka & the North Shore, Really?
By Realpro53,
today at 2:44 pm
Who ever thought that we could transition so quickly from high to low inventory?
Of course, there are still houses for sale. For instance, Winnetka currently has 46 listed homes, some of which have not sold after several months on the market.
Exactly half of the those homes are priced over $2 million which necessarily means that they will take longer to sell. Of the 23 homes under $2 million, some are overpriced and even in this hot market buyers will push back when they sense price exceeds value.
In Wilmette where there are 69 homes for sale, 38 have been on the market for over 30 days. Price seems to be the issue for many of those, or location or condition. Which all comes down to price.
With all five villages taken together there are 181 homes for sale priced between $325,000 and $18,000,000. Sixty-nine of those homes are under $1 million and 60 are under $2,000,000. Inventory might be historically low (I remember during the recession having 200 homes for sale in Winnetka) but there are still plenty of good homes for sale.
And, there are 64 more homes for sale in the MLS Private Network*. Not all are available for sale right now, but many, if not most, are and help to alleviate the strain on inventory.
Most popular homes are those that are newer, remodeled, and priced under $1 million. The median price for all homes sales in Winnetka, Wilmette, Glencoe, Kenilworth, and Glencoe in the past six months is $930,000.
For just homes priced over $1 million, the median price is $1,450,000.
How low has inventory gone in the past year for the five North Shore villages listed above?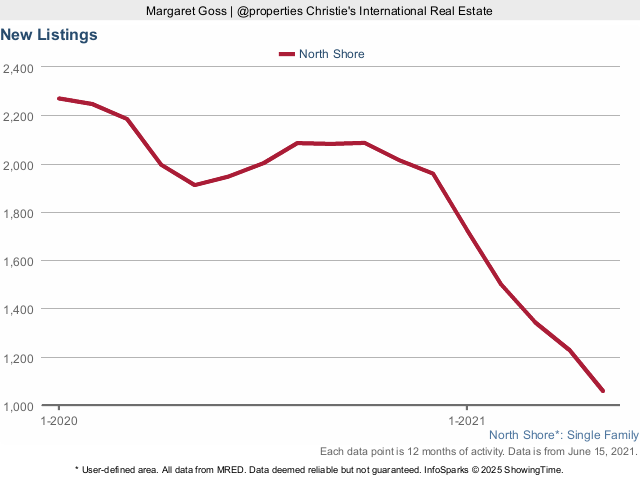 Right now the focus is on buyers getting the home they want. But it's sellers who control the market in so much as inventory goes. If they decide to stay put, the problem of low inventory will persist.
One reason people are not selling is because they need to buy a house themselves. Some don't want to enter that brawl and prefer to stay in their current homes until the rush is over.
So we have a chain reaction that results in an impasse which may be where we are now. But don't be mistaken – there are many determined buyers who are still hoping to find the right home and they've probably made other, unsuccessful bids.
Other issues leading to low inventory are high costs of materials for new construction and the 30-year fixed mortgage which is at a 50-year low. The pandemic is still pushing a certain segment of buyers out of smaller condos and into suburban homes helping to fuel the frenzy.
Prices have risen slightly over 10% (local number, not national) in the last 12 months and as you can see from this graphic, it seems to be leveling off. But with the summer months still ahead, it's too early to determine that for certain.
If you have the desire and wherewithal to list your home now, I can almost guarantee a quick sale and a dream price. Real estate pundits have different things to say about how long this market will last. 
And all the preparation that goes into getting a house ready for market has not changed. It still needs to be done (i.e. repairing, painting, staging) in order to get the ideal results. Most younger buyers may be discouraged but they still aren't keen to buy a home that needs work.
While you're here, please see:
ALL NORTH SHORE HOMES FOR SALE
*MLS Private Network Listings are homes that may be available for viewing but not yet ready for market.



Welcome to ChicagoNow.

Meet The Blogger

Realpro53

Hi – My name is Margaret Goss and I have been selling real estate in Chicago's North Shore suburbs since 1998.
I've been writing blog posts about the North Shore since 2008 – real estate, restaurants, stores, civic and community events, plus interesting people. It's a beautiful place to call home.

Subscribe by Email
Completely spam free, opt out any time.
Contact Me
Read these ChicagoNow blogs
Chicago Cubs

news and comprehensive blog, featuring old school baseball writing combined with the latest statistical trends

Pets available for adoption in the Chicago area

It's like the couch potato version of Mr. and Mrs. Smith.
Read these ChicagoNow Bloggers
ChicagoNOW
©2021 CTMG – A Chicago Tribune website –
Crafted by the News Apps team