Every major city has its quirks and Chicago is no exception. Kind of how Miami is known for its nightclubs, New York is known for its diversity, and San Francisco is known for its tech startups. So what is Chicago known for? Well, a lot of things actually. But here are some Chicago stereotypes that just aren't true. 
View this post on Instagram

Monday motivation . . . #loumalnatis #legendarydeepdish #incrustwetrust #pizzacravings #pizza #wisconsincheese #chicago #orderonline #nocontactdelivery #curbsidepickup #deepdish #chicagostylepizza #pizzaislife

A post shared by Lou Malnati's (@loumalnatis) on Nov 2, 2020 at 10:02am PST
We're Obsessed With Deep-Dish Pizza
Don't get us wrong–we're big fans of Lou Malnati's, Pequods, and other deep-dish joints. But we also have amazing Neapolitan, Roman-style, thin-crust, and even vegan style pies. And here's the thing…deep-dish style pizza can induce a full carb coma. If Chicagoans ate like that on the regular, we'd all be ten thousand pounds. 
View this post on Instagram

A post shared by cubs (@cubs) on Oct 2, 2020 at 1:05pm PDT
We're All Die-Hard Cubs Fans
Spoiler: we're not. Chicago is full of transplants and we don't automatically start rooting for the Cubs when we move here. We love a good baseball game but some of us will always be loyal to our home states. Go Tigers!
View this post on Instagram

Favorite Illustration #homealone #homealone2 #macaulayculkin

A post shared by Home Alone© Official (@homealone1992) on Dec 11, 2018 at 2:20pm PST
Everyone Who Lives in The Suburbs Owns a Mansion
Thanks to movies like Sixteen Candles, Risky Business, and Home Alone, the world thinks every teen grows up in Hinsdale. Sure, you can get more bang for your buck in the suburbs versus the city but houses vary in size. 
There's A Ton of Crime
Wrong! Chicago is a very safe place to live with a ton of excellent parks, restaurants, and nightlife spots. Our neighbors are nice, our streets are walkable, and our public transportation is reliable. In fact, apartments.com rates Lakeview as one of the best neighborhoods with .0088 crimes per capita. 
It's Windy as Hell
False. Blustery days are pretty common in Chicago but legend has it, we were nicknamed "The Windy City" because of corrupt politicians blowing hot air back in the day. 
---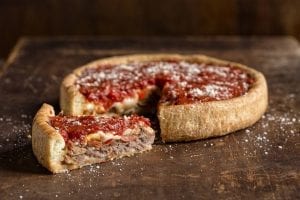 Are you trying to find the best pizza places in Chicago to visit to satisfy some Chicago stereotypes? View our list of the top 42 pizza restaurants in the city.
Best Pizza Places in Chicago Ranked
---
View this post on Instagram

Happy Halloween #BackInTheLoop to all of our spooky ghouls and gourds. . : @avinshutterbug

A post shared by The Chicago Loop (@loopchicago) on Oct 31, 2020 at 5:00am PDT
Everyone Lives in The Loop
Actually, we don't. Most of us live in the surrounding neighborhoods like Logan Square, Lincoln Park, and Lakeview. Then we commute downtown for work. That's why you won't see a ton of locals in the Loop on a Saturday or Sunday (just a lot of tourists). 
At UrbanMatter, U Matter. And we think this matters.
Tell us what you think matters in your neighborhood and what we should write about next in the comments below!
Featured Image Credit: Derrick Rose Facebook Page
READ MORE LIKE THISDOWNLOAD THE URBANMATTER APPFIND PARKING
The post Chicago Stereotypes That Most Definitely Aren't True appeared first on UrbanMatter.