With The Last Dance finally having concluded, what are some takeaways from the greatest documentary ever about the Chicago Bulls?
Since it's been nearly two months without Chicago Bulls basketball and no sports, The Last Dance documentary has given us all the sports we've needed. If you've been keeping up with the series, the last five weeks have been thrilling.
Not only have casual fans been able to see a side of the Bulls and Michael Jordan that was hidden for so many years, die-hard fans are able to relive the Jordan years through another lens. Then there's the generation that was born after Jordan, many of whom are watching the documentary and seeing the impact that Jordan and the '90s Bulls had on the game compared to what LeBron James and current NBA superstars are doing.
For all of us, the last five weeks have been unique. Because every Sunday evening, when we sit down to watch The Last Dance, for two hours, we're all amazed at everything that went on behind the scenes during the Jordan Years.
Not only does the documentary shed light into Jordan's rise to stardom, but it all also gives us a great look into his greatest rivals and how to this day, they'll admit that the Bulls were above all else. Appearances from Patrick Ewing, Gary Payton, Larry Bird, Magic Johnson, Isiah Thomas, and many more only begin to scratch the surface of Jordan's impact on the game.
RELATED PRODUCT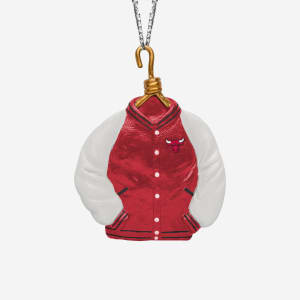 Chicago Bulls Varsity Jacket Ornament
With the ten part documentary series officially having concluded, what are some takeaways on the greatest documentary ever produced that's going to have an impact both on and off the basketball court? Let's find out.