Though Otto Porter brings skill and a veteran presence to the Chicago Bulls, there is no doubt that he owns a bloated price tag.
While the NBA season is still in flux for another few weeks as we await the decision to be made about the end of the current season, the Chicago Bulls have been praised in their rebuilding efforts of late that started by replacing the GarPax front office that fans loathed for nearly two decades.
Sure, that's all fine and good but the fact remains that no one will be happy if the team throws the same players out on the floor as it did for this shortened 2019-2020 season.
The Bulls could get ahead of that issue by starting to shop around small forward Otto Porter Jr., as he is most likely to pick up his nearly-$29 million player option before the June 29 deadline.
While his efforts here in Chicago looked to be a saving grace for a terrible team at one time, his tenure with the Bulls hasn't changed the number of games won (though that is partially due to coaching).
RELATED PRODUCT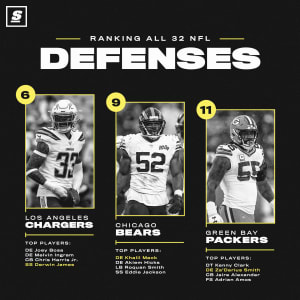 Get theScore App for the latest ranking of Football Defenses. Who's #1? Download and see.
Porter is one of a few players on the current Bulls roster that has noticeable basketball IQ.
He also has flexibility between the forward spots and has shown flashes of being an above-average 3-and-D player which leaves no doubt that he would have a ton of value on another team.
With that, there is the flexibility to bring new faces to Chicago this summer if he were to be traded for a couple of assets or players on smaller deals, even if the players in question were to have a couple more years on their remaining contract.
With Porter's contract being gone and that unbearable Cristiano Felicio contract being up after next year, the door would be open for the new front office to make a splash in 2021 free agency.
Fans around the NBA are looking much more forward to the 2021 free-agent class that will include the likes of Kawhi Leonard, Paul George, Anthony Davis and Giannis Antetokoumpo, all of whom would be worshipped if they came to the Windy City.
In order for that to happen, Arturas Karnisovas and Marc Eversley have to think like star players; brand recognition goes with brand recognition, meaning megastars in the NBA want championships more than money and will only go somewhere that makes getting a ring a legitimate possibility.
That's the long way of saying those big-name guys would not come to Chicago in its current rebuilding state.
These trade possibilities give the Bulls a shot to look like a team on the upswing, therefore making Chicago look like the place to be when free agents are looking for new homes next summer.