"One town that won't let you down, It's my kind of town!"
For the fourth year in a row Chicago has been voted as the best city in America to visit by Condé Nast Traveler. Welcome to what Michael Jordan could never do: Four Peat.
The annual event polled over 700,000 readers of the travel publication between April and June and it seems that 700,000-plus readers know what they're talking about. Chicago is the best big city in America to visit and from someone who's most definitely not biased by any means, let me tell you why.
Everywhere you turn there's something new for you to discover. As an individual who has lived here their entire life, I'm still finding out new things about my environment. And I know what you're going to say about the murder rates and violence Chicago is so mercilessly ravaged for in the national media and how can this city possibly be voted for anything positive knowing that. But in all honesty, the Chicago portrayed in the media vs the Chicago people genuinely experience is like comparing Mitchell Trubisky between the 20's and Mitchell Trubisky in the red zone.
Also, we have deep dish pizza. I hate that greasy sauce puddle that people call food but tourists love it and I can guarantee you that Chicago ranks high for places to visit because of joints like Gino's East, Lou Malnati's, and Giordano's. If you're ever in Chicago on a trip and want to eat some real authentic Chicago food, call me. Or drop a line in the comment section. I'll take you on a food tour that would make Anthony Bourdain rise from his grave. Rest in Peace, king.
The city is not without its flaws. No city is. However, this award is a testament to the great things the city offers despite being in the national spotlight for those flaws. Chicago is a metropolis of immense diversity. I call it the city of neighborhoods with each of those neighborhoods being a representation of a different culture, ethnicity, or characteristic of people. It's something you cannot find anywhere else in the world and that's what makes it such an attraction for people to visit.
---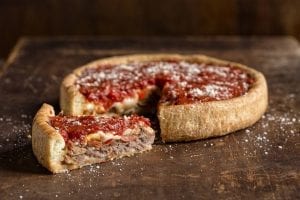 View the Best Pizza Restaurants in Chicago, Ranked
Chicago is already the best city in America to visit, but you need to eat. View our list of the top 50 pizza restaurants in the city.
View the Best Pizza Places in Chicago
---
There's something for everyone to experience here, and no, that doesn't just mean Navy Pier or going to the bean. It doesn't just mean the Michael Jordan statue, Wrigley Field, or Lake Michigan—though for some it does. And that's the point. If you want to experience sports Chicago, there's a ton of that. Food Chicago? Even more of it. Architectural and historical Chicago, ohhhhh sheesh is there enough to fill 15 schedules for you.
It provides you the depth of New York City without the smell and you can do it without maxing out you PTO calendar. It's the City by the Lake, the Windy City, or the City of Neighborhoods.
It's Chicago, and it's my kind of town. So come visit because we are, in fact, Number 1.
At UrbanMatter, U Matter. And we think this matters.
Tell us what you think matters in your neighborhood and what we should write about next in the comments below!
Featured Image Credit: Chicago Theater