The Chicago Bears are entering a crucial season as the window for this defense gradually closing.
The Chicago Bears open training camp this past Monday in what has been an odd unusual offseason for the NFL during this global pandemic. Rookies and veteran free agent acquisitions are at a disadvantage with the wipeout of the preseason, OTAs, veteran and rookie minicamps. It is why I cannot take too much from the competitions the Bears have across the board.
The Quarterback competition suffers the most as both players lose out on valuable reps. Specifically, quarterback Nick Foles developing a rapport with the starters. With all, there are still some young players on the team that fans should pay attention to their development.
Can rookie wide receiver Darnell Mooney get up to speed on the playbook to contribute this year? The rookie has been getting some rave reviews early on from coaches and teammates. Is Jaylon Johnson ready to step into that vacant starting cornerback spot? Artie Burns, unfortunately, went down with a torn ACL day two into camp. Johnson will have the opportunity to step in snatch the spot away from another young talented unproven corner in Kevin Tolliver.
There also some veterans that fans should key on. Tarik Cohen is one, who is entering a contract year and will be looking for a big bag in the offseason. Anthony Miller is another player that has been under the microscope this offseason.
RELATED PRODUCT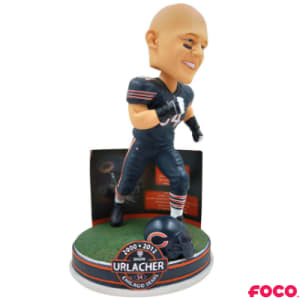 Brian Urlacher Chicago Bears NFL HOF Bobblehead
There is plenty of players on the team that fans should keep a close eye on. However, here are three players that you should not sleep on having big years in 2020.