It finally happened, Chicago. The new front office of the Chicago Bulls has given Jim Boylen his walking papers.
Ding dong, the witch is dead!
After months of waiting (and paranoia it might never happen), the Chicago Bulls relieved head coach Jim Boylen of his duties on the morning of August 14th.
The minute Bulls Chairman Michael Reinsdorf hired new executive vice president of basketball operations Arturas Karnisovas, Boylen's future with the team was cast into doubt.
There was instant fear from the former coach after the front office moved on from former general manager Gar Forman, as shortly after the Karnisovas hiring, Boylen made an official press release through the Bulls organization to welcome the newest member of the front office.
RELATED PRODUCT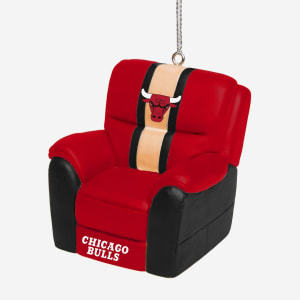 Chicago Bulls Reclining Chair Ornament
The timing of Boylen's press release on April 13th was very awkward, being in the midst of an Illinois-wide quarantine order. Not only that, but members of the Chicago press could see right through Boylen's ploy, recognizing it was a hail Mary in the worst way.
The effect was a complete turnaround from the intention that Boylen had. Dan Bernstein, a daytime sports radio host on 670 AM The Score, gave the perfect reaction to such a weirdly timed thank-you letter:
"Boylen doesn't seem to understand that he's not in a position to welcome someone at least two levels above him in the power structure, but that didn't keep him from continuing to strike a perfect balance of craven desperation and transparent obsequiousness."
Is there anything else to say past that?
I suppose that doesn't matter now. If social distancing wasn't still in the official Illinois and Chicago guidelines, I'm more than willing to bet that a fan-organized parade would be taking place down Madison Street now that Boylen is in the same unemployment line as Forman and former head trainer Jeff Tanaka.
This process didn't start off very well, however.
While the NBA Bubble was going on in Orlando, Flordia due to the coronavirus pandemic, an interview of Jerry Reinsdorf through USA Today indicated that the Bulls and White Sox chairman could be in financial trouble.
While "financial trouble" isn't the same for a billionaire as it is for the average citizen, the article quoted:
"Reinsdorf, 84, hasn't calculated the exact losses but says they 'are in the nine figures.'"