Chicago Bears QB Mitchell Trubisky has made 'phenomenal gains' during offseason training.
After a rough 2019 NFL season, the Chicago Bears traded for quarterback Nick Foles to add competition to the team's quarterback position.
Along with trading for Foles, the Bears declined quarterback Mitchell Trubisky's fifth-year option with the team.
Instead of shying away from a year where Trubisky and the team regressed, Trubisky has worked with different trainers to become the elite passer the Bears were hoping they had when they drafted him in 2017.
Passing Table

| Year | Age | Tm | Pos | No. | G | GS | QBrec | Cmp | Att | Cmp% | Yds | TD | Int |
| --- | --- | --- | --- | --- | --- | --- | --- | --- | --- | --- | --- | --- | --- |
| 2019 | 25 | CHI | QB | 10 | 15 | 15 | 8-7-0 | 326 | 516 | 63.2 | 3138 | 17 | 10 |
| Care | Care | | | | 41 | 41 | 23-18-0 | 811 | 1280 | 63.4 | 8554 | 48 | 29 |
Trubisky was interviewed by Bears media a few weeks ago, telling them how he was excited for the healthy quarterback competition with Foles but he still believes this is his team. Trubisky's teammates have come out and said positive things about him and his worth ethic with them this offseason.
[embedded content]
Trubisky had surgery on his left shoulder this offseason which found him working with "SPEAR Training". An Instagram post from SPEAR Training said the following on Trubisky's recovery and work this offseason:
RELATED PRODUCT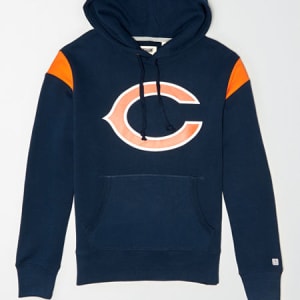 Tailgate Men's Chicago Bears Fleece Hoodie Basic Navy XL
Chicago Bears QB Mitchell Trubisky has made phenomenal gains this offseason with his training. Prior to beginning his training, he was recovering from surgery for a partially torn labrum in his non-throwing arm. Since training here at SPEAR his shoulder is as strong as it's ever been and his mobility, range of motion, and strength have improved significantly. His throwing arm was structurally imbalanced when we first started with him from all of the overuse. Heading into his next and final training phase before going back to camp his throwing arm is structurally balanced and he's throwing the ball extremely well feeling as good as he ever has. His hard work this offseason and effort in the weight room has been relentless! Super excited for him to display his new strength on the field this season!!!
With Trubisky's throwing arm being structurally imbalanced his whole career, that could explain why his accuracy isn't where it should be. Trubisky missed key throws last season that the second overall pick in the NFL draft shouldn't miss.
If Trubisky has truly improved and can win the starting quarterback job, he could prove to be the franchise quarterback Chicago thought he was when they drafted him.
Fans should want Trubisky to do well this season and win the job from Foles for two reasons. One, Trubisky is 25 years old, so if he can become an elite quarterback, the team is set at the quarterback position for at least 10 years. Second, Foles winning has him as the team's bridge quarterback as they look to find their future franchise quarterback. Trubisky not working out this season sets the team back.
I still believe this is Mitch's team and this season will be exciting. It's good to hear some positive news on Trubisky improving physically. As long as he can translate this on to the football field, a ton of Bears fans will have faith in Trubisky again.