The Chicago Bulls would make a splash by hiring the league's first woman head coach.
As the world of sports continues its dance around the worldwide coronavirus pandemic, nothing much has changed for the Chicago Bulls in the last couple of months.
The hires of new Executive Vice President of Basketball Operations Arturas Karnisovas and new General Manager Marc Eversley surely had most Bulls fans screaming "Finally!"
Of course, the next step is to ditch the generally loathed Jim Boylen and find a new head coach, right? Well, not exactly…
The new front office regime has put all of its current focus into righting the ship as an organization before trying to deal with ole Jimbo. Reason being, that Rick Carlisle, current coach of the Dallas Mavericks and head of the NBA Coaches' Association (NBCA), has warned candidates about Chicago according to Sun-Times reporter Joe Cowley.
When it was brought up during an interview with 670 AM The Score, Cowley said "Carlisle has been a very behind-the-scenes advocate of 'Hey, stay away from the Bulls, it's not a good place'".
Talk about hitting you when you're down, sheesh.
RELATED PRODUCT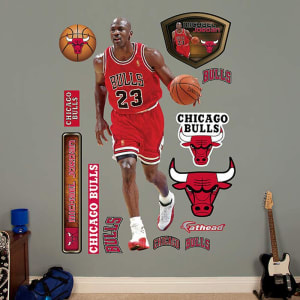 Michael Jordan Chicago Bulls Fathead Real Big Peel and Stick Life-Size Wall Graphic
The pain doesn't make the statement any less truthful, however, so it only makes sense that the first step back to greatness as an organization is showing class in regards to your (soon-to-be-ex) employees.
In regard to who might be replacing Drill Instructor Boylen, current Philadelphia 76ers Assistant Coach Ime Udoka quickly rose as the hottest name, with Toronto Raptors Assistant Coach Adrian Griffin also in the running.
While both of those names sound great, the Bulls would make even bigger headlines hiring Becky Hammon from the San Antonio Spurs.
(Sidenote: if you want Tom Thibodeau back, think to yourself the differences in coaching styles between him and Boylen. Above that, we all enjoyed the Derrick Rose-era but it's gone now. Bringing Thibs back won't carry the Bulls back to relevance.)
As a player, Hammon was a three-time All-American star-point guard at Colorado State and turned professional in1999. After being signed by the WNBA's New York Liberty, she went on to play 15 seasons in the league and spent the offseasons playing overseas in Europe.
Hammon ended her career in 2014 as a six-time WNBA all-star and had her number retired by the San Antonio Stars (currently the Las Vegas Aces) in 2016.
Hammon has been on the Spurs bench since 2014 and impressed head coach Gregg Popovich enough from the get-go for him to release a statement saying:
"I very much look forward to the addition of Becky Hammon to our staff. Having observed her working with our team this past season, I'm confident her basketball IQ, work ethic and interpersonal skills will be a great benefit to the Spurs."
So far as Popovich isn't exactly the guy to hand out random compliments, this statement should be taken as more than just a typical announcement.
Hammon made good on Pop's praise and was named the NBA's first full-time female assistant coach in 2015; she was also considered for a general manager position for the Milwaukee Bucks in 2017.
Not bad for being on an NBA bench for less than a decade.
So what if she was granted an interview to come and coach the Chicago Bulls? Let's all imagine this hypothetical scenario.
First of all, Hammon would become the first female head coach in NBA history. This would be great a barrier being broken all on its own and would open up a floodgate of coaching talent that has been vastly ignored (current Bulls Assistant Karen Stack Umlauf, anyone?).
Also coming with hiring Hammon would be the lowly Bulls absolutely dominating sports headlines for at minimum, a couple of days. Chicago would be the number one story across the basketball world, more impressive that they are currently watching the playoffs from the couch.
Plus, after the mutiny and punch-clock stories were headliners on NBA: The Jump, it would be nice to have a story on national television and not be laughed at if you're a Bulls fan.
Most importantly, Hammon is a basketball mastermind and has been in the up-and-coming circle for a while since joining the Popovich staff.
As if all of that wasn't enough, Hammon's career has been lined with tons of praise from former and current players. Former Bull Pau Gasol singled her out in his An Open Letter About Female Coaches in 2018, saying " Becky Hammon can coach NBA basketball. Period."
The Spurs would be wise to keep her around, but the fact that Tim Duncan was elected the head of the bench when Pop wasn't around for the one game against the Charlotte Hornets back in March led some to believe that she might not be the immediate heir to the San Antonio throne.
The Bulls might want to step on it though if they want to give Hammon an interview, however. A recent local news report from NBC-San Antonio stated that the Popovich disciple could receive an offer from the New York Knicks as they look for their own head coach.
You hear that, Karnisovas? Bring her in for an interview!