Are You Genuine?
By Colleen Sall,
today at 10:28 am
I saw this image enter my Instagram feed and it gave me pause: isn't one of the highest compliments a person can receive is that of being called "genuine"? Am I genuine? I like to think I am.
What does it mean to be genuine? What does it mean to live a life as a genuine person? The list is pretty comprehensive, but I began to wonder about some of the points.
The "10 Behaviors of Genuine People" post came from an Instagram profile called "chakrasalignment_" which primarily has posts mentioning manifesting personal power, vibration, crystals, karma, perspectives, psychic advisement, etc. I'd definitely say it's sort of "new agey" (and New Age, in my opinion, is a collective thought combining many OLD beliefs from the roots of world religions and ancient philosophy).
To gain further definition of the behaviors listed, I did a Google search. Turns out Entrepreneur.com has the exact same list in a slightly different order (10 Behaviors of Genuine People, March 16, 2015).
I found it surprising that a very artistic, spiritual Instagram profile page had the exact same list as an Entrepreneurial internet page – it seemed to me that the kind of people viewing each of these types of pages would have very different interests, life goals, objectives and thought philosophies. Perhaps being truly "genuine" surpasses what your interests are and gets to the heart of who you are.
The chakrasalignment_ Instagram page doesn't give any explanations to the statements, but the Entrepreneur web page does. I won't write out everything, but I'll summarize the points, my questions (perhaps they are yours, too?) and the comments from web article.
The author, Steve Tobak, starts out by saying whether you're building a business, a network, or friendships; we look for people who are not fake. We want to be around straight shooters that we can count on for their honesty and realistic approach – and that it's becoming increasingly rare to find people like that. Here's what I questioned and the answers I gleaned from Tobak's article:
10 Behaviors of Genuine People
1. They don't seek attention.
Shouldn't we want to connect with others? Share our ideas? Dress in our own style and look pleasant? Not be afraid to "toot our own horn" to promote ourselves to get into a good college or land a great job, or even get a nice date? Don't all these things, in fact, "seek attention"?
That all may be true. What the article says is that "genuine people" don't need constant reinforcement of their own ego – they already have self-awareness and self-confidence.
Perhaps then it's ensuring that we do not have the "desperate need" to be praised or liked, but have a strong enough sense of self to comfortably BE ourselves and be willing to reasonably point out our assets when appropriate and accept praise graciously when it is due.
2. They're not concerned with being liked.
Don't we all wish to be "liked"? And in fact, if a person IS unlikable, is it because they can't see how they turn off other people, such as a character like Ebenezer Scrooge? It seems like basic human nature to want to be liked by others.
The article says the "need" to be liked is born of insecurity and narcissism. Genuine people don't have to "manipulate" others in any way to be likeable. Confident and authentic people are simply themselves. If you like them, fine – if not, that's fine too.
I would add that a person should be self-satisfied, but have the self-awareness to recognize when making some personal changes is necessary – and sometimes it is. To have the emotional intelligence to know when to make self-adjustments to help relationships flourish, but also have the same self-awareness to not have to change who they are fundamentally (which we hope is an honest, good person). It's the ability to elegantly accept that we are on a continuous path of seeking healthy self-improvement emotionally, spiritually and physically – acknowledging that we aren't perfect all the time.
3. They can tell when others are full of it.
This I get. If you're old enough you know the character Eddie Haskell from "Leave It To Beaver," who was in my view the epitome of the "fake" kid who presented a completely over-the-top alter ego when it served his purposes.
Being grounded in reality and figuring out when things don't add up is how Tobak describes knowing when others are "full of it." This takes perceptiveness – and perhaps learning from mistakes and past naivety.
4. They are comfortable in their own skin.
I'm going to be honest – I think this is a tough one for a lot of people. I think that there are some people who make this look easy but may not always feel that way about themselves. And frankly, I'm okay with that. It's human.
One of the things I most admired about author Amy Morin who wrote "10 Things Mentally Strong People Don't Do" is that when asked how she had "mastered" this list, she chuckled and said that she doesn't have the list "mastered"; she wrote it at one of the worst points of her life and uses it as a check-point to get back on track when she knows she has veered off.
The article also says something similar, quoting actor Leonard Nimoy who was in his 70s saying that he was finally starting to feel as comfortable with himself as the character Spock he had played many years before. Self-acceptance often takes wisdom, and wisdom typically comes with living – and age.
5. They do what they say and say what they mean.
This is fairly straightforward to me. This is not easy for many people. I have a friend who told me that in college she would often agree to meet people or make plans but never followed through. She just got busy or it slipped her mind. But a friend was hurt she was not living up to her word and called her on it. That scenario stuck with her and shaped how she speaks with people.
I value people who "walk the talk." You can trust them and they are reliable. Tobak adds that these kind of people don't exaggerate or parse words and are truthful – even if it's not easy to hear.
6. They don't need a lot of stuff.
I think most people fantasize about having "things." A nice home, a boat, a great place to vacation, a cool car, a great wardrobe, etc. Sometimes collecting "things" can take the place of gratitude for what we have; or even not being grateful for what we have in the current moment, even if we have plans to work to get something we'd like in the future.
Perhaps this point most of all is a balance between the Instagram post and the Entrepreneur web article. Tobak writes: " When you're comfortable with whom you are, you don't need a lot of external stuff to be happy. You know where to find happiness – inside yourself, your loved ones, and your work. You find happiness in the simple things."
7. They're not thin-skinned.
If a person is a straight shooter with others, than they must also be able to accept criticism – they DON'T have to accept insults as truths; but they don't have to react to those either.
The article points out that such people don't take themselves too seriously – because they're not insecure – and they don't take offense when none is intended.
8. They're not overly modest or boastful.
I agree with the statement but I'm not sure I don't agree with the author's comments about humility. I wrote a post September 21 called "Humility and Timidity – One Empowers You, The Other Limits You."
I agree that if a person is truly confident and knows their capabilities they don't have to boast. No one likes to be around a boar who can't stop talking about himself or herself. I don't see humility as a way of avoiding positive attention of the situation merits it. I see humility as the ABILITY to not have to boast.
9. They're consistent.
Yep, I like this one. What ya see is watch ya get. When someone is consistent – in a positive manner – they are reliable, stable and paraphrasing Tobak, such people know themselves well and are in touch with their genuine emotions and are predictable in a good way.
10. They practice what they preach.
I feel that in many ways, this attribute summarizes much of the other attributes. We're talking consistency, good moral fiber, fairness, honesty, maturity and emotional balance.
Tobak says their core shows self-awareness that's consistent with realty.
They don't overthink, manipulate, distort reality, aren't afraid to be honest, aren't self-absorbed.
This is the kind of person I hope I am, and I admit I'm striving to be this. This is the kind of children I want to raise.
No matter if they end up on a path that makes them an artistic spiritual healer or an entrepreneur – or something in between – being a "Genuine Person" is a life goal.
Subscribe by email here to make sure you don't miss a post. It's spam-free and you can opt out whenever you like.
I'd love to stay connected to you. Type your email address in the box and click the "create subscription" button. My list is completely spam free, and you can opt out at any time.



Welcome to ChicagoNow.

Meet The Blogger

Colleen Sall

I'm the mom of a teen girl and boy and am on the "Adventure of a Lifetime" as I chart new territory with two terrific kids. I grow along with my children as we navigate the ups and downs of teen life. I live in the Chicago suburbs with my husband of 25 years, our two kids and a lively little dog. Life is good.

Subscribe by Email
Completely spam free, opt out any time.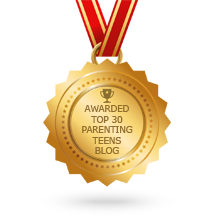 Read these ChicagoNow blogs
Chicago Cubs news and comprehensive blog, featuring old school baseball writing combined with the latest statistical trends

Pets available for adoption in the Chicago area

It's like the couch potato version of Mr. and Mrs. Smith.
Read these ChicagoNow Bloggers
ChicagoNOW
©2020 CTMG – A Chicago Tribune website –
Crafted by the News Apps team